Ebola Virus: Kaduna NMA Advocates Campaign In Rural Communities
The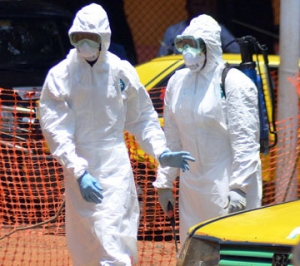 Kaduna State branch of Nigerian Medical Association (NMA) has advised both the federal and state governments to focus more of their enlightenment campaign on the Ebola virus disease to the rural communities rather than concentrating on the urban areas.
The association said that this has become imperative because majority of the rural dwellers eat more bush meat than their urban counterparts, and are also not properly enlightened to know the risks associated with the Ebola virus disease.
The Kaduna State NMA Chairman, Dr. Mohammed Ibrahim, gave this advice at a press briefing in Kaduna on Saturday, where he debunked rumours spreading round the state since Thursday that there was an outbreak of the deadly Ebola virus in the state.
He advised the residents to always confirm any issue relating to the Ebola case from health personnel instead of relying on rumours. He also advised them to adopt measures of protecting themselves from contracting the virus.
Mr Ibrahim reiterated the willingness of his members to attend to any case of Ebola or any other emergency in the state, despite the ongoing strike by medical doctors across the country.
He, however, expressed dissatisfaction with the Federal Government's insurance cover for health workers who are attending to victims of Ebola virus, as well as the level of preparedness shown so far by both the Federal Government and the 36 state governments.