I see Nothing Wrong In Wearing "Swimming Outfit"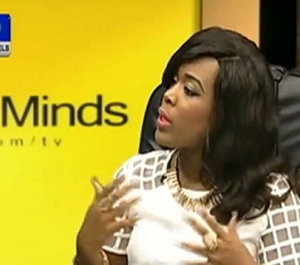 Popular Souncity VJ, Moet Abebe, has said there is nothing wrong in wearing swimming outfit.

Appearing as a guest on Rubbin' Minds on Channels Television, Moet explains that she sees nothing wrong in wearing swimming outfit, which she feels should not draw unnecessary attention.
Moet, who denied claims of having a sex tape, also said that she did not know how the rumour started and was very surprised to have heard such.
She differentiates herself from other VJ's saying, she  is always willing to learn from mistakes and acknowledge that she was wrong.
As a daughter of a business mogul, John Abebe, Moet says she was raised like every normal child and has had a fair share of difficult times.
She also explained that the tattoos on her body all have a story to tell on experiences she has had at one point or the other.
She is presently working on movies which she features in and will love to take take both careers as an actress and VJ together.