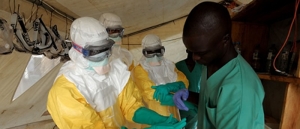 The Federal Government of Nigeria has confirmed a tenth case of the Ebola Virus Disease in Lagos State.
Addressing journalists in Abuja on Monday, the Minister of Health, Professor Onyebuchi Chukwu, said the tenth Ebola case was diagnosed in a nurse who had primary contact with late Patrick Sawyer, a Liberian with the first case of the disease.
"So far a total of 177 primary and secondary contacts of the index case had been placed under surveillance,"Professor Chukwu said.
'National Emergency'
The Nigerian President, Goodluck Jonathan, last week, declared the control and containment of the Ebola Virus in Nigeria a 'National Emergency'.
He further directed the Federal Ministry of Health to work in collaboration with the State Ministries of Health, the National Centre for Disease Control (NCDC), the National Emergency Management Agency (NEMA) and other relevant agencies to ensure that all possible steps were taken to effectively contain the threat of the Ebola Virus in line with international protocols and best practices.
To further strengthen on-going steps to contain the virus, President Jonathan approved a Special Intervention Plan and the immediate release of 1.9 billion Naira for its implementation.
The fund would be used for the establishment of additional isolation centres, case management, contact tracing, deployment of additional personnel, screening at borders and the procurement of required items and facilities.
'Not A Death Sentence'
The Lagos State government had prepared an isolation centre last week, as the commercial nerve of the nation battles to contain the virus that has claimed over 800 lives in West Africa since its outbreak this year.
Governor Babatunde Fashola has advised citizens living in Lagos State to remain calm, as contracting the virus was 'not a death sentence'.
The mortality rate for the disease has been between 40% – 90%, as many people have survived it.
The National Medical Association in Nigeria is currently on strike, but the government has asked for their return to work to help contain the spread of the virus.
The association is insisting that the government should meet their 24-point demand.
On July 1, the leadership of the association asked all members to down tools, after the Federal Government failed to address their demands.
The association is, among other things, demanding the stoppage of the appointment of non-doctors as directors and consultants.
They are also demanding the immediate passage of the National Health Bill, appointment of a Surgeon-General of the Federation, the payment of 100,000 Naira hazard allowance for medical doctors and the skipping of level 12 by medical and dental practitioners.
The association had in June addressed a news conference at the Federal Capital Territory, Abuja, where it advised the Federal Government to urgently address its demands or be prepared for the indefinite strike with effect from July 1.