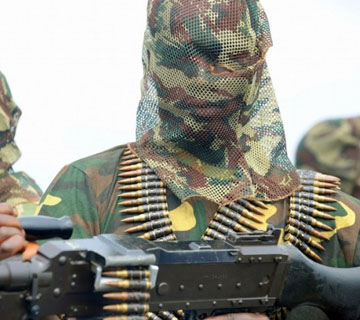 Residents of Doron Baga village in Borno State, Nigeria's restive north-eastern region, have said that suspected sect members have kidnapped 50 residents after a raid.
Eyewitness accounts said that 26 people were also killed during the raid.
Several witnesses who fled after the raid, said that attempts by the villagers to fend off the attack was unsuccessful, as militants clothed in military and Police uniforms had burned several houses and that 97 people were unaccounted for.
"They left no men or boys in the place; only young children, girls and women….They were shouting 'Allah Akbar' (God is greatest), shooting sporadically. There was confusion everywhere.
"They started parking our men and boys into their vehicles, threatening to shoot whoever disobey them. Everybody was scared," said Halima Adamu.
In April 2013, over 2000 homes in Baga were destroyed and over 185 died, caused by fighting between the Nigerian military and the Boko Haram sect.
Baga is a town in the northeastern Nigerian state of Borno, close to Lake Chad, and lying northeast of the town of Kukawa.
It is located within the Kukawa Local Government Area.
The town is approximately 196km from Maiduguri, the capital of Borno State.
The "Doron Baga" fish market, as of 2000, was located about six kilometres from the town.
Baga used to lie on the border of Lake Chad and was a fishing center itself in the 1960s and 1970s, but the diminishing size of the lake has caused fishermen to move, and others have turned to subsistence farming.