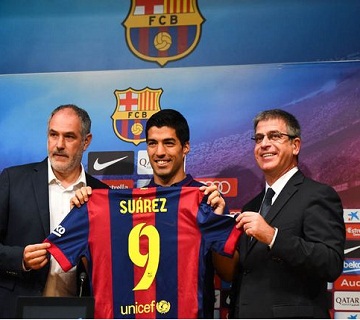 Barcelona forward, Luis Suarez, has made a promise not to bite anymore.
Suarez admitted he was concerned for his future in the days following his four-month FIFA ban for biting Giorgio Chiellini, but is now putting the saga behind him.
The Uruguay international provoked uproar at the World Cup over the summer after being found guilty of biting an opponent for the third time in his career during the South American side's clash with Italy.
He was initially banned from all football-related activities for four months, as well as nine international matches, although that did not stop Barcelona from making the 27-year-old their marquee summer signing from Liverpool.
The controversial striker, who said he was "really depressed" after the incident in Brazil, launched an appeal with the Court of Arbitration for Sport against the ban.
Following the verdict, the former Liverpool striker is still banned from playing in competitive fixtures until late October and must also serve the remaining eight games of his nine-match international ban.
But Suarez is no longer excluded from "all football-related activities", which allowed him to make his Barcelona debut as a 75th-minute substitute in the 6-0 friendly victory over Mexican side, Club Leon, on Monday.
Addressing a media conference on Tuesday, he said of his behavioural issues, "I am speaking to professionals – the right professionals. But it is a private matter and I don't want to comment further on that."
"I know I must accept the reality and have apologised," said Suarez. "That is something from the past and to be forgotten. When it [the bite] happened I felt very down, then saw I had to apologise. I prefer not to go back over all I have been through. The lesson is clear. It was my mistake. But that is the past now. I say to the fans not to worry as it will not happen again."
Suarez, who had previously been banned for biting PSV's Otman Bakkel and Chelsea's Branislav Ivanovic, initially denied he had bitten Italy's Chiellini in Uruguay's 1-0 win, but then issued a statement later confirming his guilt.