Young Nigerians Must Take Responsibility For Nigeria To Grow-YALI Delegates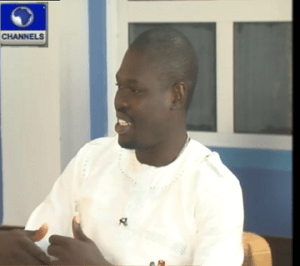 A Delegate to the Young African Leadership Initiative (YALI) Summit, held in the United State, Sola Akinyemi has urged young Nigerians to stand up and take responsibility, stressing that young Nigerians need to get involved for the country to grow.
"The new Nigerian should stand up and take responsibility from where they are.We should not wait for the government because we do not have control over what the government can do. The young Nigerian needs to get involved; rather than cause darkness, Nigerians should put on the light", he said.
This statement was hinged on the just concluded 3 day African Summit in Washington DC, where young African leaders in public, private and civic organizations, demonstrated their commitment to contribute their skills and talents to building  and serving their communities.  
"Nigeria is a country where you have people who are hungry to learn and who want change in the country. But a lot of times, they have not been rightly taught.
They (Nigerian youths) have the desire  to learn, but the energy is  different from the perspective they follow. Instead they  express this eagerness through a lot of frustrations, complaining and cursing the government", he said.
Akinyemi  also berated  Nigerians waiting on foreign media "write their unfortunate story, rather than consciously or deliberately writing better stoies',  for the world to see.
He further noted that for Nigeria to  experience a shift in  paradigm, Nigerians need to hear new things, think properly and  be exposed properly for the world to see their creativity in changing the world.
Also speaking on Channels Television's programme, Sunrise, on Saturday, was another delegate to the Summit, Kemi Onobanjo, who stressed the importance of entrepreneurship as one of the key to  unlock good  potentials in Nigeria.
According to Onobanjo, sowing the seed of leadership and transformation, can make Nigeria a changed place, thus, this would give hope to the hopeless by empowering Nigerians in building  successful businesses.
"Having the mental strength to sit down and think into a challenge, is what we really need which is the orientation of the mind", she emphasised.
She maintained that young Nigerians are energetic and are looking for avenues to express that energy, adding that when given the right platform, they will use it right in building Nigeria.
Due to the shortage of empowerment programmes in Nigeria, Onobanjo said young Nigerian youths, need to be consolidated with skills that will empower them to change their perception and mind set, for the country to grow.
Also speaking via a telephone interview, another delegate, Adepeju Jaiyeoba insisted that the problem with the young Nigerian is lack of inspiration.
Jaiyeoba however advised young Nigerians not to lose focus from their vision but to emulate people that can impact them in passion, excellence and ideas.
"The humble beginning is what matters. The values of  people who place on their ideas and the ability to move from their  idea state, to an implementation state, is key to making young leaders across Africa", she said.
In the Summit, United States President, Barrack Obama, changed the name of the Yali Summit from Young African Leadership Initiative (YALI)' to Mandela Washington Fellowship For Young African Leaders', in honour of the late South African leader, Nelson Mandela.