Military Dismisses Boko Haram's Claim Of Caliphate In North-east
The Nigerian military has dismissed claims by an extremist group, Boko Haram, that a north-east town seized by the insurgents earlier this month has been placed under an Islamic caliphate.
The leader of the group, Abubakar Shekau, had, in a new video, claimed that the group had formed a caliphate in Gwoza, a town in Borno State.
"Thanks be to Allah who has given us victory in Gwoza and made us part of the Islamic caliphate. Thanks be to Allah. We are in an Islamic caliphate and we have nothing to do with Nigeria," Shekau, who spoke in arabic, said in the video published on Youtube by AFP.
 "Claim Is Empty"
But in a tweet on its twitter handle, the Defence Headquarters stated that "the claim is empty".
"The sovereignty and territorial integrity of the Nigerian state is still intact.
"Any group of terrorists laying claim to any portion of the country will not be allowed to get away with the expression of delusion and crime.
"Appropriate military operations to secure that area from the activities of the bandits is still ongoing," the tweet read.
The terrorist group had attacked a training camp of the Nigeria Police Mobile Force (PMF) in Gwoza few days ago and 35 officials of the police were said to have been taken away after the attack.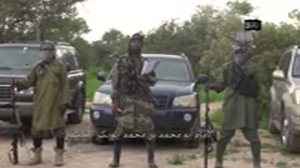 In response to the attack, the Acting Inspector-General of Police (IGP), Suleiman Abba, ordered the tightening of security around police facilities in addition to efforts to further protect lives and property.
A police spokesman, Emmanuel Ojukwu, told reporters that an attack on the camp on August 7 was repelled by the Police, but that a fresh offensive was launched on August 20 in which the policemen on duty engaged them in a fierce battle.
"The search and rescue party launched immediately has located and brought to safety all Police officers in the Training College at the time of attack.
"So far, 35 policemen, who are still missing from the facility as a result of the latest attack, are being searched for with very promising prospect of locating them," he said.
The IGP urged all Nigerians to remain calm and join hands with the security forces in the collective fight against insurgency, restating his determination to work closely with other security agencies to stem the tide of terror.
The Boko Haram sect has carried out series of attacks on villages, churches, schools, mosques and public places in some states in the north.
Three states – Adamawa, Borno and Yobe – in the north-east have been placed under a state of emergency that has lasted for over one year to enable the military tackle insurgency in the region.