Giroud Undergoes Surgery To Left Tibia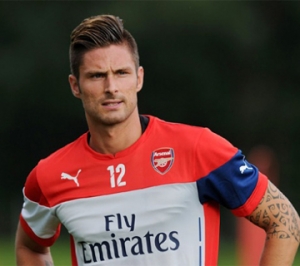 Arsenal Striker, Olivier Giroud, has undergone successful surgery to repair a small fracture to his left tibia.
A statement on Arsenal Football Club's official website confirmed this.
Scans following Saturday's match at Everton confirmed the injury and after specialist opinions in the following days, the decision was taken to have surgery in London on Wednesday afternoon.
Olivier is expected to return to action in approximately four months.
There were expectations that Club Manager, Arsene Wenger, would be forced to sign a new striker to keep the team's challenge for honours on track, but the manager, while speaking to the media on Wednesday night quashed the hopes.
"Giroud had surgery today from a broken tibia and he will be out for 3-4 months on the competition side. That means he will be capable to play again in the Premier League certainly at the end of December because he will be out for two months.
"By the time he comes back, that goes three to four months. You ask me straight away who we will buy? I give you the answer straight away – at the moment nobody."