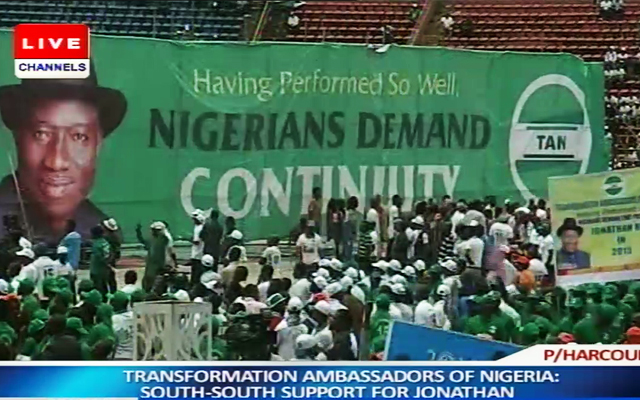 Solidarity for President Goodluck Jonathan has started pouring in from different quarters.
The Transformation Ambassadors of Nigeria and members of the All Progressives Grand Alliance, APGA, both have endorsed President Jonathan for a second term.
At different rallies held in Port Harcourt and Anambra State, both groups unanimously agreed that one good term deserves another.
Thousands of transformation ambassadors gathered at the Liberation Stadium in Port Harcourt Rivers State to ask the President to re-contest the presidency come 2015.
It was the third in the nationwide solidarity campaign for the President's re-election bid in 2015, organized by the Transformation Ambassador of Nigeria.
With solidarity songs and placards displaying their love, delegates from the South South region of Nigeria took turns to climb the podium as they pledged their allegiance to the man they call an agent of change.
Millions also signed the big book to show their seriousness in backing President Jonathan for another term. So far over 4 million signatures from the South-South region have been gathered.
Meanwhile, in Awka, the capital of Anambra State, South-East Nigeria, it was a different gathering but one that tells the same story.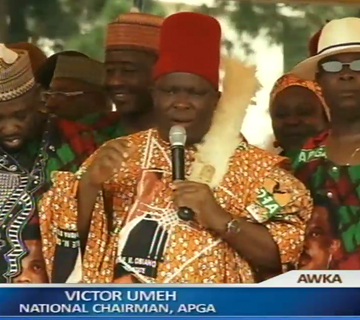 Members of the All Progressives Grand Alliance, APGA, gathered to rally the support of their members to endorse President Jonathan for a second term.
The National Chairman of the party, Victor Umeh, while speaking at the rally said, "Ever since 2011, APGA has remained a strategic partner to President Goodluck Ebele Jonathan in Nigeria.
"We have, as party leaders, at various times, spoken unequivocally of our support for President Goodluck Jonathan.
"In 2013, there was a governorship election in Anambra State, and from what we have seen in Nigeria under President Goodluck Jonathan's watch, credible and free election is now the order of the day…Democracy has come to stay in Nigeria."
The party, therefore, believes that one good term deserves another.
"Looking at the political template in Nigeria today, we are certain that President Goodluck Jonathan needs to be re-elected for another 4 years in office," Umeh told the gathering.