Fashola, Oyebode Urge Nigerians To Vote Out Incompetent Leaders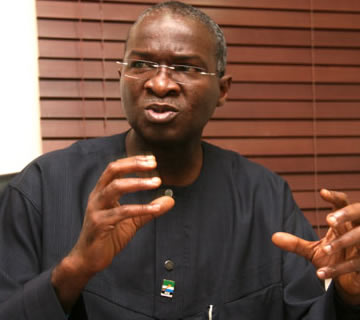 Lagos State Governor, Mr Babatunde Fashola, SAN on Thursday said Nigerians must have the courage to change leaders who does not live up to their responsibilities.
The Governor who spoke at the Lecture and Awards Ceremony for the Mike Okonkwo Educational and Youth Initiative Essay Competition (MOEYI) which took place at the Shell Hall of the MUSON Centre, Onikan said it is no longer democratic when the people have allowed a bad government to serve out its full terms before saying it should be changed.
He noted that just as the voting public must be ready to change a bad government, it must also work vigorously to keep a good one in government, adding that that is where the choice is inherent and embedded in a democracy.
The Governor stressed that the United States of America and the United Kingdom have had several scores of Presidents and Prime Ministers in position but no one can easily recall the names of at least a quarter of them off hand because in those countries the voting public have been quick to remove those who perform below expectation and also kept those who performed very well for as long as the Constitution allowed it.
"Either you like it or not, elections have started because Permanent Voters' Cards are being issued now. Are you busy at work? Stay at work. Those who wish things to happen, stay away from there and those who want things to happen get involved in them. Somebody will probably collect your card or they would return it if it is unused.
"What is happening in February is ballot day, part of the process of elections. After balloting takes place disputes would be resolved because petitions would be filed. When all of that is finished, it is to return valid candidates and remove unsuccessful candidates and what ends the process is that electoral offenders should also begin their own part of it", he said.
Governor Fashola likened the job of an elected leader to that of a football coach, stating that whenever a football coach falls short of his expectations, he is simply given the boot and that Nigerians should not hesitate to give a non-performing leader the boot from office.
The Guest Lecturer, Professor Akin Oyebode, urged the governing class to do all that it can to assure the people that their vote would count.
He maintained that democracy would not have come of age in the country except and unless and only to the extent that the people are able to vote ruling governments out of office in a free, fair and peaceful manner just as some of Nigeria's neighbours have done.
"We just cannot continue having more of the same and think we are making any progress. For me, change represents the touchstone of democratic practice and the earlier this is brought to the consciousness of all and sundry, the better our chances of being on the ascendancy of democracy, socio-economic and political development generally", Professor Oyebode added.