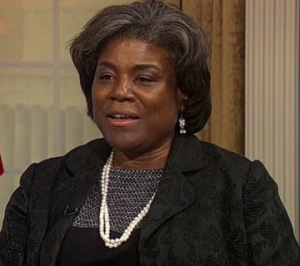 The US Assistant Secretary for African Affairs, Ambassador Linda Thomas Greenfield, has called on Nigeria to assist other West African countries in the containment of the Ebola Virus Disease.
She made the appeal after meeting with the Minister of Health, Prof. Onyebuchi Chukwu, in Abuja on Thursday.
Mrs Thomas-Greenfield who is in Nigeria on official visit to attend a security Nigeria-US Bi-National Commission meeting to discuss issues on health and politics commended "the minister, his staff and the government of Nigeria on how they effectively deal with the Ebola outbreak here in Nigeria.
"They are taking all the right steps to stop this andthey are having great success here. I appeal to the Minister to assist neighbours in Liberia and Sierra-Leone as they also grapple with this terrible outbreak", she said.
She further expressed concerns "over the spread of the Ebola disease in Liberia, Sierra-Leone and Guinea" adding that "efforts are being made proactively every single day with the support of our Centre for Disease Control (CDC), World Health Organisation (WHO), and the health community around Africa and the world to support those efforts to control the outbreak in those three countries", she said.
She also denied allegation that U.S was not ready to assist Nigeria, especially with the trial drugs.
"That is not correct; I think the Centre for Disease Control has proactively supported all the countries in the West African region in dealing with the situation. It is not about Zmapp. There were six doses of Zmapp available; they were all used.
"What is important is how to control the spread of the disease. And, that is exactly what is being done here in Nigeria; and efforts are being made to have the same kind of success in Liberia," the American official stated.
Prof Chukwu on his part said Nigeria is her brother's keeper, promising that "we are going to assist our sister nations".
He also commended the efforts of the United States' Centre for Disease Control in containing the spread of Ebola Virus Disease in Nigeria.