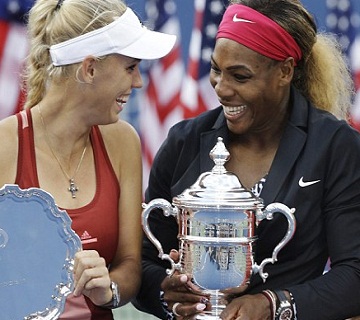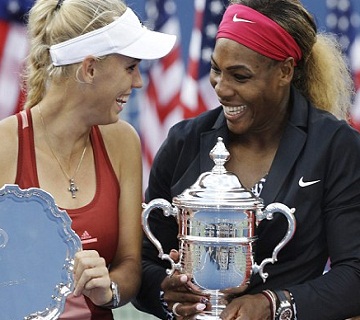 Serena Williams defeated Caroline Wozniacki in straight sets to win her sixth US Open and 18th Grand Slam title.
Williams eased past Wozniacki 6-3 6-3 to move up in the record book with her 18th grand slam title.
It was the third consecutive and sixth overall U.S. Open crown for the 32-year-old American as well as her 18 career grand slams putting her alongside Chris Evert and Martina Navratilova for fourth place on the all-time list.
After a poor start from both players, Williams steadied herself to take the first set and found something approaching her best form to dominate the second.
Failing to get beyond the last 16 of the year's first three slams, the top seed sailed through the U.S. Open without dropping a set, finishing off Woznaicki in 75 minutes.
"It was a really wonderful feeling," said Williams, who was joined by Navratilova and Evert for the trophy presentation, when she also collected US$4m in prize money.
"I couldn't have finished things in a better way. It is a pleasure for me to win here, I am really emotional. I couldn't ask to do it at a better place."
The emotion for Williams was clear during the on-court ceremony as she struggled to hold back tears before being presented with an 18-carat gold Tiffany bracelet by Navratilova and Evert to mark her achievement.
"It means a lot to me," she said. "I just could never have imagined that I would be mentioned with Chris Evert or with Martina Navratilova, because I was just a kid with a dream and a racket.
"Living in Compton, this never happened before. And then it was eluding me for three tournaments. That's a lot for me. I was really excited to get it. It was definitely (weighing) on my shoulders."
"I definitely did not think I was going to win a Slam this year," she added. "And I even said, 'I'm ready to start next year already. Let's put this behind me.'
"I'm grateful to win a Grand Slam this year. It feels really good."
There was no joy, however, for Wozniacki.
Back in a grand slam final for the first time in five years, it was another frustrating end to a promising fortnight for the 10th seed as she once again left Flushing Meadows empty-handed, a major championship just beyond her grasp.
The Dane had hoped she would be more ready for the occasion five years after her first slam final, when she lost to Kim Clijsters, but she was comprehensively second best to her close friend, Serena.
"I don't believe that talent can beat everything," said Wozniacki, who leaned on Williams for support after golfer, Rory McIlroy, broke off their engagement just before the French Open.
"When she's on her game it's not fun to play her," said Wozniacki, whose only other grand slam finals appearance also came at Flushing Meadows in 2009. "She's so strong. She has a good serve and she puts pressure on you straight away.
"When she needs to she can pull out that big serve. She has the power. She can push us back on the court and take the initiative.
"She definitely has the experience now, as well. I think that makes it even harder, because maybe back in the day she might have made not the right choices.
"Now she knows what she needs to do out there, and it makes it even harder to beat her."
Wozniacki insisted the pair's friendship did not affect the match and hailed Williams's phenomenal achievements.
"When you're out there, we're both competitors and we both want to win, so we're both going to do anything possible to win the match," said Wozniacki.
"After the match, we're friends again. It's tennis. It's a game. But off the court we still care equally as much about each other.
"I think her results and her career says it all: 18 grand slam titles. You don't get that unless you're exceptional in what you do. She is one of the greatest of all time. To have 18 grand slam titles and still be the person she is is really something very rare."
It has been a tough season for Williams by her sky-high standards, the American failing to make it past the fourth round at any of the first three slams.
The world No1 moved to within one of the pair at Flushing Meadows 12 months ago but faltered surprisingly three times trying to get there.
At the Australian Open, French Open and Wimbledon, she did not make it past the fourth round, and when she was whisked away from the All England Club in June after her bizarre doubles display, a US Open title looked a long way away.
Williams has now won six US Open, five Wimbledon, five Australian Open and two French Open titles over the course of 15 years – a record span of years between winning Grand Slams.
Both Navratilova and Evert won their 18 titles over the course of 12 years, and Williams's longevity is something that John McEnroe, a four-time US Open winner, believes makes her the best ever.