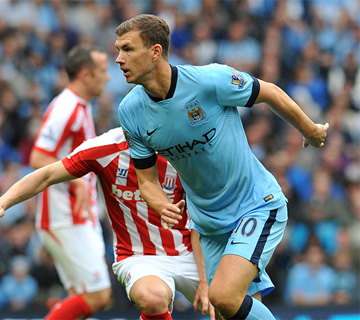 Manchester City's defence of their English Premier League title is firmly in the back of striker, Edin Dzeko's mind.
The new Bosnia-Herzegovina captain, who scored a sublime solo goal for his country in their 3-0 win over Liechtenstein on Thursday, has continued his impressive start to the 2014/15 season.
As well as discussing his new role as national team skipper, the 28-year old has also been weighing up chances of winning a third Barclay's Premier League title in four seasons, with City's trip to Arsenal just days away.
Speaking to the club's official website, Dzeko declared, "It will be difficult, but I'm an optimist.
"As with every season, there are several teams that will battle for the title of champions in England.
"This season Chelsea might be the most serious challenger, but we mustn't ignore Liverpool, Tottenham, Arsenal, or United, who will certainly be much stronger than last year.
"After all, everyone has gotten stronger, and everyone wants to be first."
Edin's role in City landing a second title in three years last season can hardly be overestimated, given his five goals in the last four games of the league run-in.
The striker penned a new deal which will keep him at the Etihad Stadium until at least 2018, following a season which he described as one of his best-ever.
"The past season was one of the best in my career, and in the end we reached the title of champions of England, the second in the past three seasons," the 28-year old said.
"We succeeded in winning the Capital One Cup and I am really happy how everything played out in the past season, both for the club and for myself.
"As far as the contract, in general I had no dilemma around an extension.
"I am happy at City, the manager believes in me, which is certainly important, and I give my all on the pitch and altogether it means quite a lot to me, because Manchester is a club with great ambitions and I easily decided to stay put."
Edin succeeded Emir Spahic as national team captain in the summer, following Bosnia's unfortunate group stage exit from the World Cup in Brazil.
On the captaincy, Edin said: "I would be lying when I say that it isn't the dream of every player, including me.
"I will give my all to replace Spahic in an adequate manner. I am aware that with the captain's armband comes greater responsibility, and I will work hard to prove in the best way that I didn't become captain by accident.
"I believe I can fulfil all expectations, both of the manager and of fans, my teammates, the media, and my own. I wouldn't be here today if I doubted myself.
"Together with the Belgians, we are the favorites, but Israel should not be forgotten and certainly not underestimated, as they are known to be very unpleasant on their home field, nor Wales, who in their ranks have players like Bale and Ramsey.
"We were at the World Cup, we saw what it means, and it is great experience for us that will help us in the future.
"Our goal is France, and it should be taken seriously."