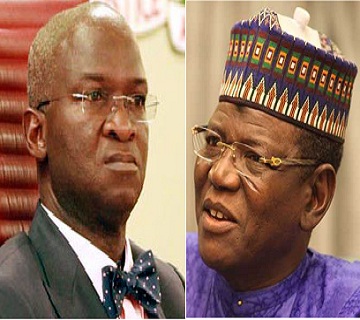 Governor Babatunde Fashola of Lagos State and the Governor of Jigawa State, Sule Lamido, say Nigeria's political leaders' misplaced priorities is slowing down the progress of the nation blessed with so much resources.
The governors made the observation at the first Kukah Centre Policy Debate held in Abuja on Wednesday.
Governor Fashola lamented that although Nigeria was blessed with abundant resources, there was a tendency to pay selective attention to national advancement and cohesion.
On his part, Governor Lamido said the problem of the country was caused by attempt by the leaders to appropriate public offices to themselves and their associates at the expense of the people they were expected to serve.
The governors lamented the impact of poor leadership on the country and called for a change of attitude and said that the leadership needed to do something to revive the sense of nationalism of all Nigerians so that they could work together in tackling the challenges facing Nigeria.
They said they are not bothered by who takes over from them but expressed hopes that the work they had done would speak for them now and in the future.
It was the first policy political debate organised at the Kukah Centre, a platform for key policy makers to dialogue with the public.
It was indeed a dialogue as members of the public interacted with the two state governors on policy issues affecting their states and Nigeria, at large.
The debate was moderated by the founder of the centre and Bishop of Sokoto Diocese, Bishop Matthew Kukah.