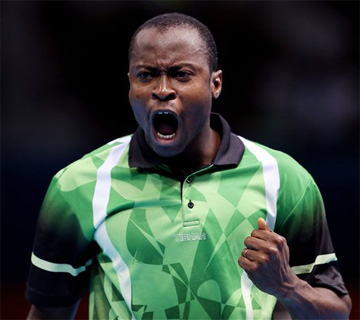 The International Table Tennis Federation (ITTF) has confirmed Nigeria as one of the countries to participate at the 2014 World Cup.
Nigeria's Aruna Quadri would represent Africa in the Men's World Cup taking place in Dusseldorf, Germany on October 24 to 26.
Quadri secured qualification during the maiden African Top 16 Cup that took place in Lagos and the Nigerian would be making a second appearance at the tournament after his debut at the 2009 edition in Moscow, Russia.
For the women's World Cup, Egypt's Dina Meshref would be Africa's representative when the tournament serves off in Linz, Austria on October 17 to 19.
The International Table Tennis Federation has confirmed that 20 women and 20 men would compete at the two events holding next month.
The players qualified for the prestigious World Cup events through their exploits at Continental Competitions, which simply means only the best of the best can compete.
Other players that earned automatic qualification to play in the 2014 World Cup were the current World Champions, Jike Zhang of China and Xiaoxia Li of China, while the two lucky players to receive a wildcard into the events are Greece's Panagiotis Gionis and Romania's Elizabeta Samara.
Some of the top stars competing at the 2014 World Cup include Olympic bronze medallist, Germany's Dimitrij Ovtcharov, who will be aiming to win his first Men's World Cup, judging by the home support he would enjoy in Dusseldorf.
Ovtcharov would be the locals' favourite to win the Men's World Cup, as would Austrian Liu Jia in the Women's World Cup.
Liu qualified by sensationally winning the DHS Europe Cup earlier, and would be keen to take that strong form to Linz where she hopes to win a medal.
Asides Nigeria's Quadri, other players competing in the men's World Cup are China's Jike Zhang, Greece's Panagiotis Gionis, Portugal's Marcos Freitas, Denmark's Michael Maze, France's Adrien Mattenet, Russia's Alexander Shibaev, Germany's Timo Boll, India's Sharath Kamal Achanta, China's Taipei's Chuang Chih-Yuan, Japan's Matsudaira Kenta and Hong Kong's Tang Peng.