Ebola: Nigeria Must Create Legal Policy To Curb Stigmatization – Strategist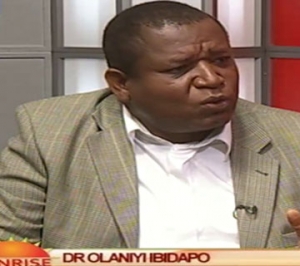 An Economist and Communication Strategist, Dr. Olaniyi Ibidapo, says stigmatization is one of the effects of any outbreak of diseases which comes out of fear, misinformation or misrepresentation of situations.
Speaking on Channels Television's Sunrise Daily, he stated that except Nigeria comes up with "a legal policy and awareness creation among the populace, stigmatization would be a serious problem in the future."
With a background of having done extensive research in Communications strategies with a bias for Health communication, Ibidapo recommended "multidimensional, multifaceted approaches" in sensitizing the populace on the facts about the Ebola Virus.
He explained that this is based on the notion that "the more the approaches, the more the effect of realising the goal.
"Most of these approaches are international templates that have not been adequately tested, so you cannot measure the effectiveness immediately. So you cannot rely on one approach," he said.
Mass media, sensitization and training were among the approaches highlighted by Ibidapo but he noted that the community being involved remained an important feature in all the approaches.
He stated that the prevalence of the Ebola Virus Disease has been within the communities and "whatever the implementations you're going to take on this Ebola outbreak, communities have to be involved.
"When I mean communities, it has to be the religious organisations, the MDAs, the NGOs, the individuals and the corporate bodies. This is the big opportunity for the corporate bodies in Nigeria to take advantage of, because Ebola is everybody's business now."
Speaking further on the issue of Ebola stigmatization, Dr. Ibidapo stated that Nigeria would need to improve its health infrastructure as this would help the country.
However, he noted, "Ebola victims need to come out and let people know they are still alive. That is why policy implication has to start because when Government backs it up with a law – Ebola health policy – this will help us in identifying and recognizing that we could curb Ebola spread."
While he appreciated the Nigerian culture, which he says is communal and does not necessarily encourage the idea of victims coming out, he maintained that an upgrade of Nigeria's health infrastructure would help build some confidence.

He also highlighted the level illiteracy in Nigeria as another challenge. "The population is huge, a lot of people are educated but are they really informed?"
The Consultant refused to blame citizens for the discriminative attitude towards Ebola survivors as he admitted that indeed fear was responsible for this, but "with information we will understand that once it is cured, it is cured."
He made reference to a Channels Television report which featured an Ebola survivor who has suffered stigmatization.
"As we have seen, he is healthy, he is hale and he is active. The society needs to support him, the Government needs to back him up in terms of establishing a policy, making it a law and making sure that they prosecute any offender.
"It is an offence to infringe on the other person's human rights – rights of association and right to work. It is a serious offence within our system here."
He called for support for the survivors of the EVD, with emphasis on the need for everybody to be involved.