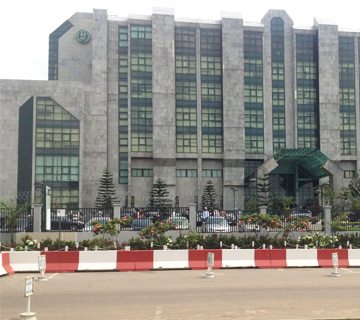 Accredited customers of the Corporate Affairs Commission, C.A.C, on Monday morning in Abuja, staged a protest at the commission's headquarters and in the process disrupted services.
The group, consisting of lawyers, chartered accountants and secretaries across the country, blocked the entrance of the commission demanding for explanations to issues bordering on service deliveries and multiple payments.
According to the group, clients have lost confidence in them because management of the C.A.C have failed to deliver in their services.
They accused the management of poor service delivery and multiple payments from customers.
Meanwhile, management of the C.A.C says the situation is a minor issue that would be rectified within 24 hours.
They insisted they were doing all they could to provide good services to customers.
The Registrar-General of the C.A.C, Bello Mahmud, blamed the commission's woes on a service provider who shut their server for two weeks. They claimed that the vendor had no rights to shut their server since they had kept their side of the agreement.
The commission also denied allegations by protesters that the disruption of services has led to loss of information, as the commission has no back-ups, hence the issues of multiple payments.