Missing Plane: Air Force Aware Of Location But Can't Access It – Air Chief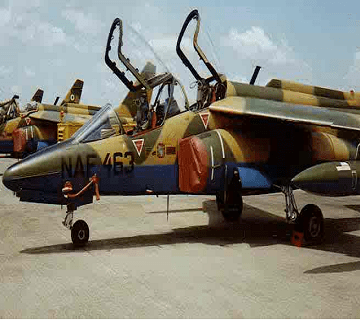 Nigeria's Air Force says it has an idea of where the missing Alpha Jet (NAF 466) is, but blamed bad weather for the difficulty in locating it.
After a closed door meeting on Monday with the Vice President, Namadi Sambo, the Chief of Air Staff, Air Marshall Adesola Amosu, told reporters that the fact that the Air Force lost an aircraft did not mean the military had lost control of the nation's airspace to terrorist sect, Boko Haram.
He said that some useful information from farmers in the area were not sufficient enough for them to determine the area of search.
The Alpha Jet (NAF 466) was reported missing around Adamawa State, with two pilots on-board.
It left Yola at about 10:45am on 12 September 2014 on a routine operational mission and was expected back by 12:00 noon.
After the plan was reported missing, a statement by the Director Defence Information, Major General Chris Olukolade, said "all efforts to establish contact with the aircraft have not yielded any positive result".
Meanwhile, search and rescue effort is ongoing to establish contact with the crew.
The military has been engaging in counter-terrorism operations in the area for over three years against the Boko Haram, seeking to end western education in the region.
Of late, series of airstrikes were carried out on terrorist enclaves to regain control of some towns that terrorists were gaining control over.