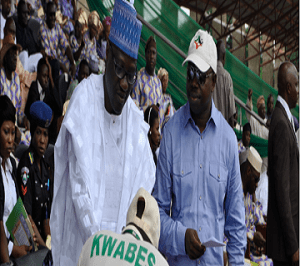 The Kwara state governor, Abdulfattah Ahmed has reiterated the commitment of his government to ensure youths in the state are empowered financially to stand on their own instead of pursuing limited white collar jobs.
He made this known during an interactive session with Kwara Bridge Empowerment Scheme (KWABES) corps members, which held at the banquet hall opposite the Government House, Ilorin, the state capital.
He said despite the lean resources of the state, efforts would be made to ensure that industries are established to improve the state economically.
The interactive session almost turned into a political gathering, as the youths one after the other, commended the initiative of the governor for the scheme, which they noted has economically changed their fortunes.
They commended the governor for eradicating youth restiveness in the state through the KWABES programme.
Speaking at the event, the Special Assistant to the Governor on Youth Employment, Saka Babatunde noted that 700 million Naira has been expended by the government on various youth programmes and assured of more to come soon.
While responding to commendation, observation and complaints from the youths, the Governor noted that the scheme is to move youths in the state from unemployment to empowerment with a view to making them attain financial freedom.
The governor identified youths as critical segment of the society, promising that the KWABES would be expanded to enable more people get empowered and rid the state of unemployment.
The governor noted that though it is not the sole duty of government to create jobs, he said the government is determined to attract private investors to the state.