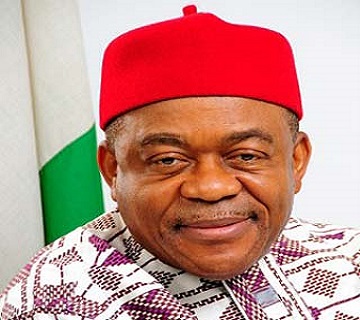 The Abia State Commissioner of Information, Dr Eze Chikamnayo, has said that the State Government would not be distracted by unwarranted statements from individuals or groups in the name of media hype, allegedly meant to undermine the activities in the state.
He said this while addressing journalists at the Nigerian Union of Journalists secretariat, Umuahia, explaining that Governor Theodore Orji has been busy inspecting all the infrastructural development being embarked by the administration to ensure its completion before the expiration of the 2015 tenure.
Chikamnayo wondered  why any individual or group would go about spreading lies and misinforming the people, pointing out that a lot of infrastructural development has being put in place by this administration and that there should not be any basis for comparison with previous administrations.
He also warned all mischief makers to stay clear and caution those at the fore front of causing breach of law through their utterances to be mindful as the state government would no longer fold its arms .
In addition, the Petroleum Commissioner, Don Ubani and human rights activist, Barrister ACB Agbazuere warned residents and citizens of Abia not to remain quiet about the falsehood being perpetuated because it is misleading the public about the state.
Chikamnayo concluded that the state Government will continue to impact on the lives of Abians despite all odds and would soon embark on rehabilitation of road infrastructure as soon as the rain subsides.