Synagogue: South African Relatives Condemn Inadequate Information As Rescue Ends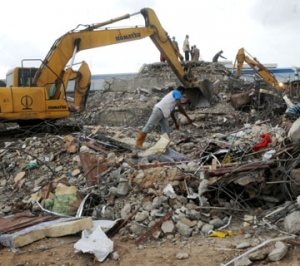 Many anxious relatives are besieging the OR Tambo International Airport, Johannesburg, hoping to see their loved ones return safely from Lagos after the Synagogue church building collapse last Friday.
However, for some it is a very frustrating wait as they complain that they are not getting any information about what has happened to them.
Channels Television Correspondent in South Africa, who was at the airport in Johannesburg early Thursday morning, spoke to some relatives who complained bitterly.
A team of Rescue Response experts from South Africa have joined the Nigerian Government efforts to manage the crisis.
SA officials say 67 South Africans died in the incident and many still unaccounted for.
Meanwhile, back in Nigeria, rescue operation at the site of the collapsed 6-storey guest house belonging to the Synagogue Church of All Nations has ended on Thursday.
A combined team of the National and the Lagos State Emergency Management Agency told journalists that there was no more trace of dead victims.
They revealed that the second phase of data collation and identification of victims has commenced.
The total final death figures released by the agencies is put at 80 with 131 survivors.
South African President, Jacob Zuma , said at least 67 South Africans died in the Friday's accident at the Synagogue Church of All Nations in Lagos and has described it as one of the worst tragedies in South Africa's recent history.
The collapse occurred when three extra storeys were being added to the existing two of a guest house in the church compound.
Led by the charismatic Prophet T.B. Joshua, the pentecostal church attracts a global following of Christians who believe Joshua is able to perform miracles including curing the ill and raising the dead.