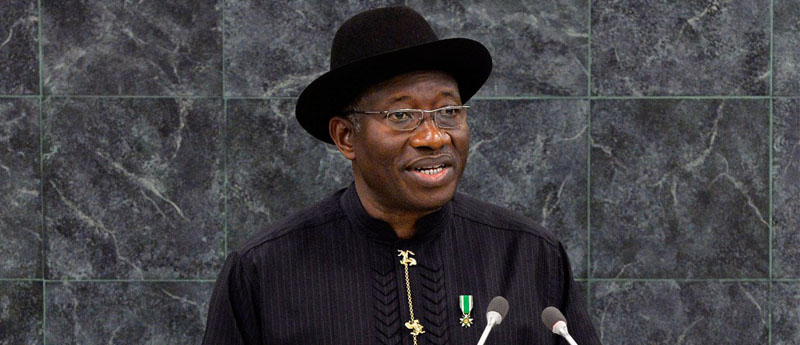 President Goodluck Jonathan has said that he would continue to count on the support, goodwill and prayers of patriotic Nigerians as he strives to give the best possible leadership towards the positive transformation of the country.
In a letter to a young Nigerian who sent a donation of 10,000 Naira as a humble contribution to the President's re-election, President Jonathan said that he was deeply touched and encouraged by the immense support his administration continues to receive from young Nigerians from all parts of the country.
"Your gracious gesture is particularly gratifying, coming as it does from one of our nation's vibrant and gifted youth who are our successor generation and for whom our administration is unequivocally committed to providing the requisite environment to optimally realize their tremendous creative and productive potentials.
"As I carry on with the task of positively transforming our country for its God-ordained greatness and prosperity, I will continue to count on the goodwill as well as the practical and prayerful support of committed patriots like you," President Jonathan wrote to the young Nigerian, Ezemagu Sunday Nnamdi who is currently serving in the National Youth Service Corps.
Thanking the youth corps member for the donation which was sent before the Peoples' Democratic Party adopted the President as its sole candidate for the 2015 presidential elections, President Jonathan also welcomed his expression of faith in the Federal Government's ongoing efforts to reposition Nigeria for sustained growth and development.
The President assured Sunday and other young Nigerians that he would continue to do his best in the service of the nation in keeping with their trust and expectations.
In the letter forwarding his donation, Sunday assured President Jonathan of the continued support of patriotic Nigerians and urged him to seek re-election in 2015.
"Nigerians are behind you. We see your good works in power, transportation, education, housing, ICT, sports, electoral reforms, observation of the principle of federal character and the creation of investment opportunities.
"The insurgents who are trying to destabilize your Administration are enemies of peace and progress. You will surely defeat them," the youth corps member wrote.