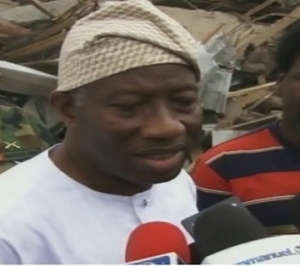 President Goodluck Jonathan has promised to investigate the cause of the collapse of the Synagogue Church of All Nations six-storey building.
The President who made this declaration during a condolence visit to the General Overseer and members of the church, also promised to collaborate with state governors to put measures that will check the illegal building of high rise buildings in the country.
While expressing condolences to the families of the victims,The president assured that the FG will deploy every necessary to ensure that investigations into the cause of the collapse are treated speedily.
The president says he Will convey a meeting with state governors to discuss the need for advice or measures that will help check the illegal erection of high rise buildings.
The President was accompanied by the national chairman of the PDP, Adamu Muazu and the Deputy Governor of Lagos State, Adejoke Orelope-Adefulire,  to the site of the collapsed structure.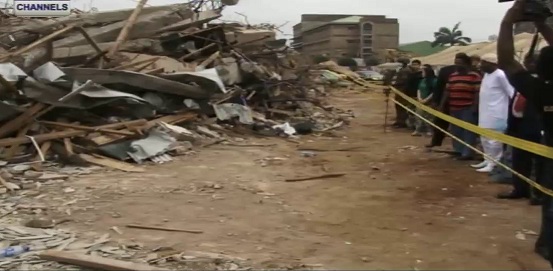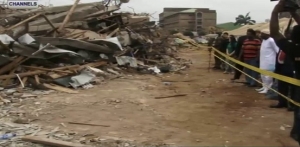 Meanwhile, the South African ambassador to Nigeria has dismissed fears of a diplomatic row between Nigeria and South Africa as a result of the incident.
He also revealed that 84 south Africans have been confirmed dead in the incident. This figure however conflicts with the figures released by the National Emergency Management Agency (NEMA).
The South West Spokesman of the Agency, Ibrahim Farinloye, told reporters in Lagos that the death toll stands at 78.
'Strange Aircraft' Responsible For Collapse

The Founder and General Overseer of the church, Temitope Joshua, popularly referred to as T.B Joshua, has linked the collapse  to a "strange aircraft" which he said hovered around the building before it collapsed.
While briefing journalists on the incident, the pastor provided a video evidence, showing a flying aircraft, to back his claim.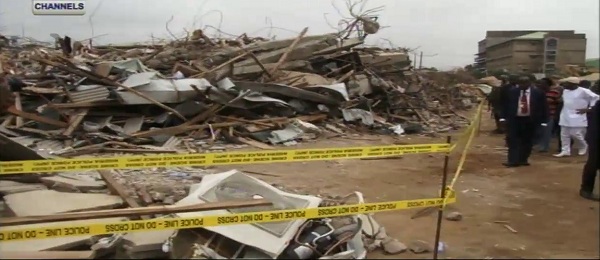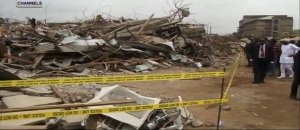 In the video, a plane was seen flying over the collapsed guest house belonging to the church at four different times, between 11:30 am and 11:54 am – on Friday morning. The building collapsed at about 1pm, on the same day.
He further alleged that he was the target of the hovering jet.
Building Plan Was Not Approved
The Lagos State Commissioner for Town Planning and Urban Development, Mr Toyin Ayinde, on Wednesday said the state government will investigate the authenticity of the clip showing a helicopter hovering over a building minutes before it collapsed within the premises of the Synagogue Church of All Nations (SCOAN), adding that the collapsed building has no approval from the state government.
Mr Ayinde noted that "that particular structure does not have approval. Because if it came for approval, we will have a name of the designers, structural engineers, architects and so on. But on our records we don't have that and somebody has to explain what was done and what was not done".