Abuja Schools Resume, Screen Pupils for Symptoms of Ebola Virus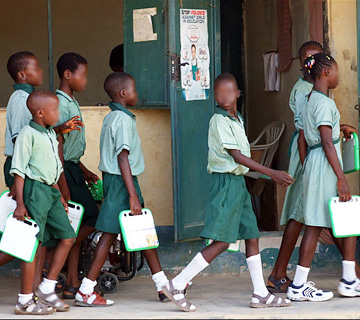 There was screening of pupils for symptoms of Ebola Virus Disease in the nations capital as schools resumed on Monday for a new session after the long vacation.
Resumption had been delayed after the importation of the disease into the country by a Liberian-American, Mr Patrick Sawyer, who died of the disease in Lagos.
The Nigeria Union of Teachers (NUT) had insisted that schools remained closed for fear that necessary safety measures have not been put in place by authorities to protect school children from the disease.
When Channels Television visited some Abuja schools, buckets, hand washing bowls and screening of pupils for high temperature were seen.
While some administrators decided to conduct these tests at the gates, others did so at the assembly ground.
Nigeria currently has no single case of Ebola, but both the government and health experts have continued to encourage citizens to keep proper hygiene.
Now that school children are resuming in some parts of the country, school administrators are expected to keep the needed vigilance for fear of another outbreak.