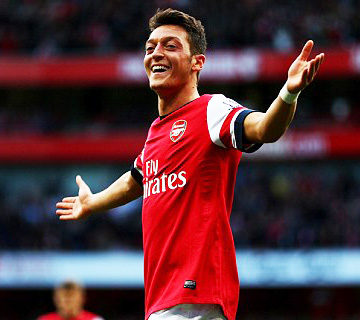 Mesut Ozil has praised the Arsenal fans for their support during Arsenal's 3-0 victory at Aston Villa on Saturday.
Ozil was influential in the victory, opening the scoring after the half-hour before providing the assist for Danny Welbeck to double the lead just 79 seconds later.
The travelling contingent responded by singing Ozil's name loudly for long periods, which the German says gave him confidence.
"Yes, it was very nice," Ozil told Arsenal Player. "When you know that your own fans are behind you, that gives you self-belief and encouragement.
"I'm generally very satisfied. I think when you assess after the game and see that you have scored and made a goal, you're relieved and very pleased.
"I'd like to praise the whole team again, who really supported me, and especially the fans who were very loud. I want to thank the fans, who were really behind me and support the whole team so well.
"We knew exactly what strengths we would have. We analysed Aston Villa before the game and knew how they would play. Especially in the first half, we created some very clear opportunities. We didn't waste our chances – we took them and that made the game easier for us.
"We played a bit differently, in our more usual system. I think that we were a bit better, a bit more organised and in the end that led to our success.
"When you look at the game, we dominated it and put them under pressure from the start. We scored important goals in the first half and that made it a bit easier for us. So congratulations to the team for delivering a perfect performance."