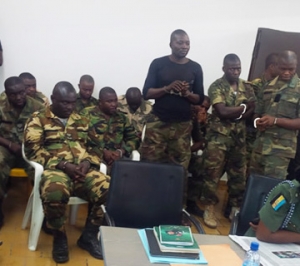 Legal Practitioner, George Ekeh, has disagreed with the view that the Nigerian soldiers recently sentenced to death for Mutiny by a court martial were wrongly tried.
This was in reaction to veteran Lawyer, Femi Falana, who, in an earlier interview, had expressed the opinion that the soldiers, under the Armed Forces Act, should have been tried under Section 52:2.
Ekeh argued that the soldiers were rightly charged under the right section of the constitution – Section 52:1 – which he read during an interview on Channels Television's Sunrise Daily.
He noted that Mutiny has always been a grave offence in the military and these soldiers had been aware of it from the moment they were recruited.
He also took on the insinuations that some of the officers that made up the military court were not legal practitioners and their  judgement could be faulty.
Ekeh emphasized this as an erroneous assumption, stating that many of the officers were qualified lawyers.
He made reference to the recently held Nigerian Bar Association, NBA conference in Owerri, which he said had about 5% of participants attending in the military uniforms.
Ekeh also dismissed the view that the soldiers had feeble representation which might have worked against them. He argued that the most important thing was that the lawyer stood up to plead for mercy on their behalf.
He noted that the court was also working based on evidences and all available evidences must have pointed against the soldiers, a situation which meant that the case was already a bad one.
A Channels Television viewer, however, suggested via social media that Nigeria needs more of its soldiers alive as it battles insurgency and this view Ekeh shared.
Although he maintained that the death sentence was the rightful judgement, he conceded that because of the circumstances of Nigeria being in a state of war, the soldiers could be pardoned.