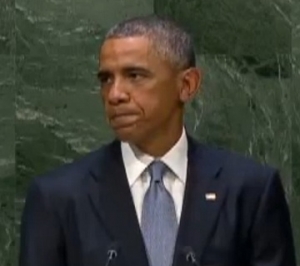 US President, Barack Obama, has asked world leaders to tackle the roots of terrorism and extreme violence around by offering alternatives to young people who are attracted to militancy.
Laying out the American leadership vision in a UN General Assembly speech, Mr Obama pointed out that the world needs a new blueprint to deal with the terror, conflict, climate and health challenges it faces.
The US President said the Ebola outbreak, Islamist militancy and Russian aggression needed addressing.
According to him, the world was at a crossroads between "war and peace", "disorder and integration", and "fear and hope".
Mr Obama told representatives of 193 nations, "On issue after issue, we cannot rely on a rule-book written for a different century."
"If we lift our eyes beyond our borders – if we think globally and act co-operatively – we can shape the course of this century as our predecessors shaped the post-World War Two age."
"Network Of Death"
Sharply critical of Russian actions in Ukraine, Mr Obama said it was an example of what happens when countries do not respect international laws and norms.
He called on Russian President, Vladimir Putin, to follow "the path of diplomacy and peace and the ideals this institution is designed to uphold".
In his speech he called on the world to join him in this effort to degrade and ultimately destroy this militant organisation, what he described as a "network of death".
The president outlined America's role as the lead player in a coalition of more than 50 countries committed to defeating Islamic State militants.
"We reject any suggestion of a clash of civilisations," he said.
"Belief in permanent religious war is the misguided refuge of extremists who cannot build or create anything, and therefore peddle only fanaticism and hate."
The US has carried out more than 194 air strikes against the militants in Iraq since August.
He also addressed the challenges of tackling Ebola in West Africa, forming a strong international coalition on climate change and moving forward on nuclear talks with Iran.
Mr Obama, however, admitted the US had sometimes failed to live up to its ideals but said he welcomed the world's scrutiny.
The US, he said, held "an unyielding belief in the ability of individual men and women to change their communities and countries for the better".
Opening the debate, UN Secretary General Ban Ki-moon warned that human rights were "under attack".
"From barrel bombs to beheadings, from the deliberate starvation of civilians to the assault on hospitals, UN shelters and aid convoys, human rights and the rule of law are under attack," he told the assembly.