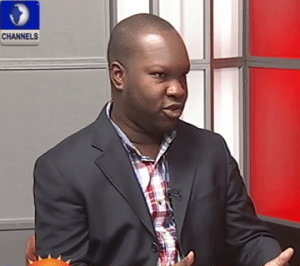 The Managing Editor, Y Magazine, Cheta Nwanze, on Thursday described the assault on the judiciary as an existential threat to Nigeria's democracy, noting that "we cannot wish it away. Neither can we pretend that it is not happening".
There has been uproar in many quarters following the alleged attack on a judge in Ekiti state and this, Nwanze says must be faced head-on, adding that "a situation where judges start to cower in fear means that the entire structure on which our democracy is built on will not last."
Nwanze, who analysed President Goodluck Jonathan's Wednesday Independence Day speech on Sunrise Daily, pointed out that "the President didn't touch on the most important issue in his speech, which is the assault on the judiciary", insisting that he could have at least acknowledged it.
"We cannot have a thriving democracy if we don't have a free and independent judiciary and what's happening in Ekiti state now is going to be a measure of how our judiciary gets its independence.
He noted that the Chief Justice of Nigeria's call to all state governors to ensure fiscal independence for the judiciary remains an issue to keep an eye on.
On the argument whether Nigerian's had anything worth celebrating on the occasion of their 54th year as a sovereign nation, he argued that "there are a 170 million Nigerians and different people see independence in different directions, in different ways.
"A lot of people (who own small businesses) actually went out to work yesterday and that's a message given without saying anything; That they live day to day, so whatever economic progress we want to beat our chest about, has clearly not delivered to this people because if they fail to work on this given day, then they have a problem."
He insisted that "that is the real story of Nigeria," noting that "it's not about the stories we hear at conferences and all of that but what has the country delivered to its people; the man on the street."
"Sadly, it hasn't yet delivered".
On the recurring theme of security in Independence Day speeches, Nwanze gave kudos to the security agencies, stating that "despite all of the negative reports or the alarmists reports that we hear, they are actually doing a decent job".
He highlighted that many of the security agents had not received the appropriate training and "insurgencies take a long time to defeat and in most cases, you probably have to come to a negotiated settlement".
He, however, warned that the elements that feed terrorism and the Boko Haram insurgency are present all over the country, including massive unemployment and poverty.
"When you have those two in tandem, you find that people tend to listen more to extremists but when people have a hope for the future, then people will be less likely to listen to extremists. So we can't keep beating our chest about two and a half million jobs created we cannot see the jobs and on the other hand we can see people being recruited into these kind of organisations."