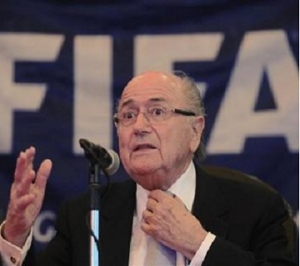 FIFA president Sepp Blatter, has endorsed Amaju Pinnick as Nigeria Football Federation (NFF) president. Pinnick, 43, who is Delta State Sports Commission chairman and Delta FA boss, was elected on Tuesday
Blatter said in a letter to Pinnick: "I wish you good luck, strength and every success for your new role and look forward to meeting you soon."
His comments allay fears that Nigeria were heading for a ban as a result of Fifa not ratifying the election.
"I would like to extend my sincere congratulations and best wishes of success on the occasion of your election as the new president of the Nigeria Football Federation," said Blatter.
"Your knowledge and experience will certainly have an important impact on the stable development of our beautiful game in your country. You can rely on my personal support and Fifa's assistance in order to reach this goal.
"The doors of the home of Fifa are open whenever you wish to discuss any relevant issues concerning the game and its governance", he said.
Pinnick, who will lead the Nigerian Football Federation (NFF) till 2018, expressed his desire to unite divisions that have blighted the country's game.
"The plan is to make genuine reconciliatory moves. I will personally go to Jos to see and speak to Chris Giwa because we all need to come together for the sake of our country and football," he said.
Pinnick also said his board will make a collective decision over the appointment of a permanent coach for the Super Eagles, with Stephen Keshi currently in the role only on a temporary basis.
"The president is not a sole decision-maker. The board will meet soon to decide the right step," Pinnick told BBC Sport.
Amaju Pinnick was elected the new President of the Nigeria Football Federation (NFF) after winning the general elections held in Warri, Delta State.
Pinnick, who is the Executive Chairman of the Delta State Sports Commission, won the election by 32 votes after it went into a re-run and will replace Aminu Maigari as the new President of the NFF for the next four years.
Two rounds of voting were needed to determine the clear winner of the election after Pinnick got 29 votes out of the 44 accredited delegates, but it was not enough to secure a two-third victory.
However, in the run-off between former General Secretary of the NFF, Taiwo Ogunjobi, Dominic Iorfa and Pinnick, it was the latter who got the votes again that saw him emerge triumphant.
This time, Pinnick got 32 votes while Iorfa got 8 and Ogunjobi got four votes.