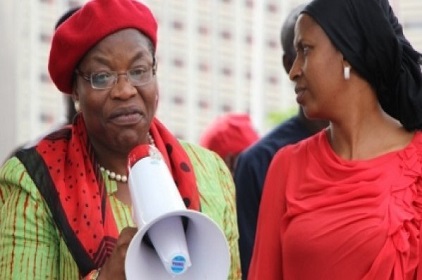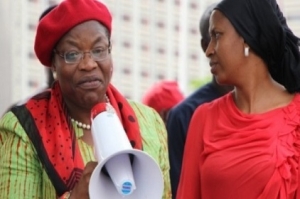 The 'Bring Back Our Girls' group in Abuja has asked the Federal Government to increase efforts to rescue the Chibok girls who were abducted six months ago.
They made the call during a protest march in the Federal Capital Territory designed to mount more pressure on the Federal Government to ensure the release of the Chibok girls who have been in captivity for 183 days.
Leader of the group and a former Minister of Education, Mrs Oby Ezekwesili, met with a stiff resistance when security agencies stopped them from gaining entrance into the gate leading to the Presidential Villa.
The group had vowed that it was a protest march that must take them into the seat of government no matter the circumstances but arm-totting security men were on hand to stop them.
On the other hand were government officials who came out to receive them at a certain point not very close to the Presidential Villa which was the original destination of the 'Bring Back Our Girls' protesters.
What looked like an altercation ensued between the leader of the 'Bring Back Our Girls' group and the female ministers when the Minister of Water Resources, Mrs Sarah Reng Ochekpe, challenged Mrs Ezekwesili on why a former minister should be leading the protest march.
However, responding to the group's demands, on behalf of the Federal Government, Minister of Women Affairs, Hajiya Zainab Maina, assured the 'Bring Back Our Girls' group that government was not resting in the efforts to rescue the girls.
Also among the protesters were parents of the missing girls who could not hide the agony they have faced all the days their girls have been in captivity.