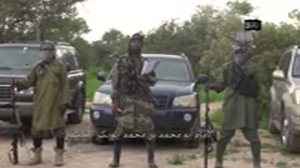 The Federal Government of Nigeria says it has reached a ceasefire agreement with the Boko Haram sect.
After the agreement was reached on Friday, the Chief of Defence Staff, Alex Badeh, ordered all service chiefs to comply with the ceasefire agreement between Nigeria and Boko Haram in all theaters of operations.
The announcement came at the end of a meeting between the Nigerian and Cameroonian armed forces where both sides decided on collaboration in communication, intelligence sharing, tactical partnerships and handling of internally displaced.
Air Chief Marshal, Badeh assured the Cameroonian military that the agreement would not have any effect on the transnational operation between the two countries to fight crimes within their joint borders.
"A ceasefire agreement has been reached between the Federal Government of Nigeria and the Jama'atu Ahlis Sunna Lidda'Awati Wal-Jihad.
"I have accordingly directed the service chiefs to ensure immediate compliance with this development in the field, Air Chief Marshal Badeh said.
Release Of Chibok Girls
The Principal Private Secretary to the President, Ambassador Hassan Tukur, met with Chadian Government officials as well as representatives of the Boko Haram sect in Saudi Arabia on Friday morning.
Securing the release of the 219 Chibok girls abducted by Boko Haram was a major part of the discussions. It is not clear if the release of the girls was agreed on.
The terrorist group had said it would only release the girls in exchange of members held in detention across Nigeria.
The Boko Haram sect was represented at the meeting where the ceasefire agreement was reached by Danladi Ahmadu.
The terrorist group  has carried out series of attacks on villages, towns, churches, mosques, schools and public places among others. In one of the attacks on Chibok, a town in Borno State, the over 200 schoolgirls were taken from their dormitory by members of the sect, which is requesting for an Islamic State and an end to western education in the region.
After the girls were abducted, protests were held in different parts of Nigeria, with a #BringBackOurGirls slogan and a call on the government to explore all opportunities in securing the release of the girls.
The government had said it would do everything possible to rescue the girls, including negotiating with the terrorist group.
In late May, military chief said the military had identified the location of the girls and that it was concluding strategies to rescue the girls, but stressed that the military was being cautious to avoid unprecedented casualties on the part of the girls.
Of late, the group shifted from bombings to trying to claim territories in the north-east.
With the ceasefire agreement, it is expected that there will be peace in the region that has seen years of insurgency.