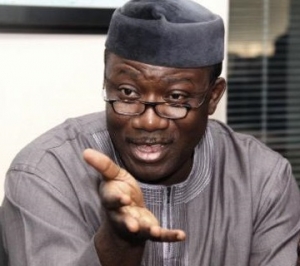 The immediate past governor of Ekiti State, Dr Kayode Fayemi, says there is no governor in the history of the state that has done more stomach infrastructure than that of his administration.
This is coming as the newly sworn in governor of the state, Ayodele Fayose, said that he would give attention to stomach infrastructure.
Dr Fayemi, in an exclusive interview with Channels Television's political correspondent, Seun Okinbaloye, believes that he has provided a lot of physical infrastructure to lift the people of the state out of the darkness of the past and he has no regrets on any of his actions during the four years he spent as governor.
He also revealed to Channels Television that there is a mystery behind the results of the June 21 governorship election, where he was defeated by Mr Fayose. He said that the mystery would soon be revealed.
The term 'stomach infrastructure' has become synonymous with the politics of Ekiti State, as the politicians keep making reference to it.
The term came into prominence during the build-up to the election when candidates devised several means, including the distribution of food items, to win the hearts of voters.
It is also believed that 'stomach infrastructure' refers to policies and projects with direct impact on the economic condition of the citizens.