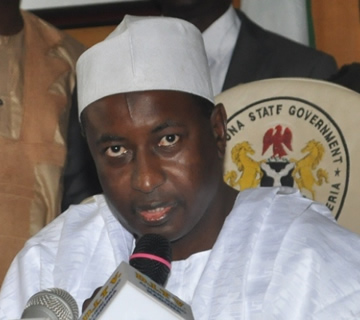 Nigerian lawmakers have been asked to consider enacting a law that would compel policy makers in Nigeria to enrol their kids in public schools.
The Governor of Kaduna State, Mukhtar Yero, made the call when the Chairman and members of the House of Representatives Committee on Education paid him a visit on Saturday.
Governor Yero said it was time for policy makers to take their children back to public schools in order to improve the system.
"A situation where policy makers take their children to private schools without properly funding the public ones does not augur well for the education sector," he said.
While stating that the State's education sector had witnessed tremendous improvement within that last two years, the governor assured his visitors that his administration would spend more resources on education in order to attract meaningful development in the future.
The Chairman of the House Committee on Education, Aminu Suleiman, said the committee was in Kaduna as part of its oversight function to Federal Tertiary Institutions in the State.
He acknowledged the developmental efforts of the Yero-led administration in the education sector, saying that despite the difficult financial position of the State, as a result of huge debt burden, the administration has performed creditably well by meeting all Government obligations.
Developments in the education sector, which has continued to see a decline in academic performance over the years triggered Governor Yero's demand.
While the public schools have continued to witness a decline, capitalists who are investing in private schools, smile to the banks on daily basis.
This fallen standard of academic performance in government owned schools, has led to most parents withdrawing their children and enrol them into private schools.
Majority of the students in public schools are children of the less-privileged in the society who cannot afford to send them to private schools due to no fault of theirs.
"It is the duty of the government to use the resources of the country to ensure the development of every citizen.
"Government should give priority to education as the future of this country depends on the quality of education given to the younger generation," he said.