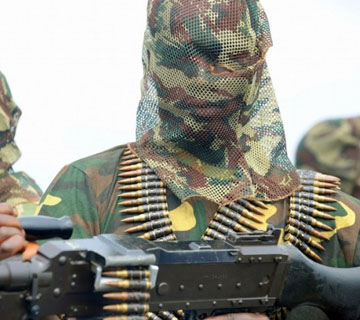 Elders in Borno State, in north-west Nigeria have expressed doubts that the ceasefire agreement the Nigerian government reached with the Boko Haram sect was with the genuine leadership of the of the group.

Answering questions from Channels Television in Maiduguri, the Borno state capital, spokesman of the Borno Elders' Forum, Dr Bulama Mali Gubio, welcomed the development but expressed doubt if the Federal Government actually negotiated with the real Boko Haram.
He was of the opinion that if the real Boko Haram members were contacted in the peace deal, then the attacks staged after the peace deal would not have been carried out.
"I am doubtful if Federal Government actually negotiated with the real Boko Haram. If not, the arms would have all been surrendered during the exercise while the Chibok Girls would have also been released.
"If real agreement has been reached, then the immediate attack and the recent taking over of Abadam and the killings in Dzur and Shaffa of Hawul Local Government in Borno state would not have been carried out by the insurgents in the first place", Gubio queried.
He questioned why governors of the three north eastern states of Adamawa, Borno and Yobe as well as traditional rulers among other well-meaning people of the zone were not involved in the negotiation process.
The spokesman also asked the Federal Government to spell out the relocation process of those displaced, while government should regain the territories earlier captured by the sect members.
The legal adviser of the Civilian Joint Task Force, Mr Jibrin Gunda is also pessimistic of the ceasefire agreement because of the non-inclusion of the needed stakeholders in the peace deal. While hoping the ceasefire agreement will achieve the desired objectives, he also called on the Federal Government to make towns ceased by the insurgents habitable and safe for the people to go back to their various homes to carry on with their legitimate business.
Some displaced persons at the transit camps spread across Maiduguri, the Borno state capital, also saw the need to dispossess the insurgents of their arms without which they can still take up the arms anytime they so wish.
They also called on the federal government to declare total war on the insurgents by crushing them in their various hideouts as they have killed so many innocent souls in the affected areas.