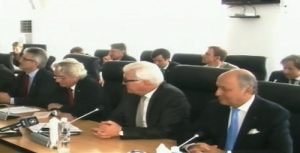 As the Independent Electoral Commission (INEC) in Nigeria prepares for the 2015 general elections, the foreign affairs minister of Germany, Dr Frank-Walter Steinmeier, has pledged the support of the European Union towards a free, fair and credible election. 
Speaking in Abuja the nation's capital on Monday, Dr Steinmeier, stressed that the security situation in the north-east would constitute a strong challenge for the electoral body.
"In your elections next year, the challenge is tremendous and you have a great responsibility towards Nigeria and it also covers the whole of Africa. The image of Nigeria is at stake and the image of Africa as a whole.
"We have no doubt that this election will be free, fair and credible.
"The European Union will contribute to it financially and we will also dispatch and EU observation mission," he said.
The Chairman of the INEC, Professor Attahiru Jega, told the European union representatives that commission was aware of the enormous responsibility placed on the shoulders of the electoral body.
"We will contribute to deepening democracy in our country. We are taking this responsibility with the seriousness that it deserves and we feel confident, giving what we have been able to do since the 2011 general elections that we will deliver free, fair and credible election in 2015
Dr Steinmeier was accompanied by the Foreign Affairs Minister of France.