Police Chief Amourer Accused Of Stealing Firearms Commits Suicide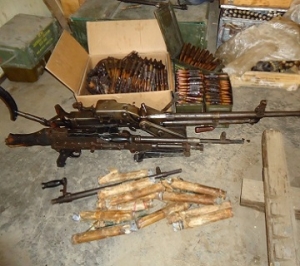 The Chief Armourer of Kaduna Police Command arrested for stealing firearms and attempting to sell same to criminals has committed suicide while in detention, police authorities said on Friday.
The Chief Amourer, Nanbol Audu, a Deputy Superintendent of police was reported to have shot himself on the chest while in detention at about 5am local time on Friday morning.
Confirming the incident, the State Commissioner of Police, Umar Shehu said preliminary investigation revealed that the late officer killed himself but however denied that the police officer may have been murdered while in detention.
He also stated that full investigation into the incident had commenced.
However, what is not clear is how the deceased officer got the gun with which he shot himself since he was in Police custody as at the time of the incident.
The late Audu and two others arrested on October 20 drove into the police armoury at night where they loaded firearms into a private vehicle.
Parading the suspects before journalists last Tuesday, the commissioner said police officers on guard suspected foul play and stopped the vehicle from leaving the premises.
And upon interrogation, he said the State Armament Officer could not give satisfactory account of his action which led to his arrest and the two other occupants of the vehicle one Zingkur Joseph of Trade Centre Jos and Samuel Adamu of Kuru Jos South Local Government Area of Plateau State, respectively.
Mr Shehu further stated that investigations revealed that one of the two civilian suspects was a blacksmith who specialises in manufacturing locally-made firearms, and that the two civilian suspects came from Jos, Plateau State on arrangement to purchase the said firearms for an unnamed traditional ruler currently on the run at the cost of 400,000 Naira (about $2,500).