Solution To Nigerian Football Crisis Is Government's Withdrawal – Tijani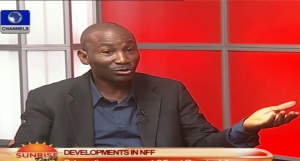 Veteran Sports Journalist, Kayode Tijani, says the solution to the crisis that has continued to rock Nigerian Football and its administration is for the Nigerian Government to embrace total withdrawal from Nigerian football.
Speaking on the Friday edition of Sunrise Daily on Channels Television, Tijani said that the reason why the National Sports Commission, NSC, would always want to lord it over the Nigerian Football Federation is because there is so much money in the federation being put in by the government.
Nigeria escaped yet another FIFA ban as it beat the deadline set by the world football governing body for it to resolve the leadership tussle it has been embroiled with, although some Nigerians have frowned at FIFA's seeming disregard for Nigerian laws and administrative peculiarities.
This view, Tijani disagreed with, saying that Nigeria having agreed to belong to FIFA had agreed to abide by the rules of the body.
"A lot of people are getting it wrong. Germany, during the first war and the second war left FIFA because to FIFA 'you can' t be here because of all your problems'. The same thing happened to South Africa, even England at a time (when) they had some disagreement."
He, however, also took a swipe at FIFA because of their many threats, "I am not saying FIFA is this squeaky clean (organisation), they are not.
"FIFA is one of the most corrupt organisations in the world but when they do their thing they do it very well.
"So for me, it is the (Nigerian) Government's problem from time immemorial. The Act for the NFF has been there for the past eight years, why don't you pass it to solve all these problems?"
A ban by FIFA would ensure that Nigeria loses the opportunity to appear at international football competitions both at club and country level and Tijani believes this would not have been a loss but would rather ensure that monies are not wasted.
Local League Development
While Tijani expressed happiness that the country was able to resolve its issues, he noted that the fear of being banned by FIFA should not be Nigerians' concern but how to develop the game within the country.
He noted that the Nigerian league should be more important to Nigeria and not the fear of losing spots at FIFA's international competitions.
He highlighted a number of factors militating against the growth of Nigerian football leagues as well as the challenges Nigerian clubs were facing, including the situation whereby several players were not being paid their salaries.
Kayode mentioned some European leagues, as well as the South-African league as examples of places where governments have no hand in the management of their leagues.
"In Germany, the only involvement of government is infrastructure," he said, maintaining his earlier stance that the Federal Government of Nigeria has to withdraw its direct involvement with the management and funding of the game.
Super Eagles
Tijani also had some words for the players and handlers of the Super Eagles as Nigerians look forward to the team's next African Cup of Nations qualifier.
"Are we going to win? I don't know. Stephen Keshi to me is a hero, he's done so much but…why holding us to ransom with players who are not going to perform? The likes of Mikel, I don't know why.
"Muda Lawal in midfield? Mikel? I can never compare a Mikel or some of these players who are holding us to ransom.
"I was in Sudan with them, they were talking about playing on synthetic (pitch), I am in shock! Rashidi Yekini scored in Sudan in 1993 and that was not even a pitch!" he said passionately.