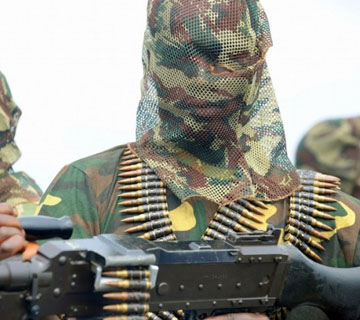 The leader of the Boko Haram terrorist group, Abubakar Shekau, has denied claims that the group had reached a ceasefire agreement had been reached with the Federal Government of Nigeria, insisting that the group will not negotiate.
In a new video released by the AFP, Shekau also said that the more than 200 girls kidnapped by the group six months ago from their school dormitory in Chibok had been "married off" to its fighters, contradicting Nigerian government claims they would soon be freed.
Nigeria's military says it killed Shekau a year ago, and authorities said in September that they had also killed an imposter posing as him in videos. In the latest recording it is hard to see the man's face as he was filmed from a distance.
But it is likely to raise grave doubts about whether talks between a Boko Haram faction and the government in neighboring Chad will secure the release of the girls, who were kidnapped from a secondary school in Chibok, northeast Nigeria, in April.
"We have married them off and they are all in their husbands' houses," the man claiming to be Shekau says.
"The over 200 Chibok girls have converted to Islam, which they confess is the best religion. Either their parents accept this and convert too or they can die."
Majority of the kidnapped girls were Christians.
Denial Of Ceasefire 
The man in the video also denied there was a ceasefire, and denounced Ahmadu Danladi, who says he represents Boko Haram in Chad.
"Who says we are dialoguing or discussing with anybody? Are you talking to yourselves? We don't know anybody by the name of Danladi. If we meet him now we will cut off his head," the man in the video says.
"All we are doing is slaughtering people with machetes and shooting people with guns … War is what we want."
He also said that the group was holding a "white man". The only known hostage seized in the northeast is a German teacher kidnapped from a college in the northeastern city of Gombe in July by gunmen widely assumed to be linked to Boko Haram.
Shekau's denial of the ceasefire appears supported by the violence since the government announced it two weeks ago. It also raises doubts about the actual influence of Ahmadu.
For over five years the terrorist group demanding for an Islamic state and an end to  western education has killed thousands.
The government had said that negotiations with the group is ongoing, but attacks have also continued despite the ceasefire agreement claims, with a car bomb, thought to have been planted by the Boko Haram sect killed at least 10 people at a crowded bus stop in Gombe on Friday morning.