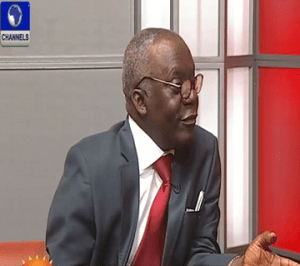 Renowned lawyer, Femi Falana SAN, in a letter to the Acting Inspector-General of Police, Suleiman Abba Esq., accused the Force of being partisan regarding political and national issues in the country, describing the act as an "Illegal Policing Of The Republic".
In the letter made available to Channels Television, Falana further cited major cases including the arrest of leaders of the All Progressive Congress (APC) during the Osun State governorship election, the ban on #BringBackOurGirls rallies and the recent withdrawal of Aminu Tambuwal's aides, following his defection from the Peoples Democratic Party (PDP) to the APC,
"Since you were appointed the Acting Inspector-General of Police by the President of the Republic on July 31, 2014 the Nigeria Police Force has been involved in partisan politics to the detriment of law and order in the country. Permit me to draw your attention to three glaring cases of political bias recently displayed by the Police under your leadership" the letter read.
Falana accused him of overstepping his boundaries, noting that "you decided to usurp the judicial powers of the federation which are exclusively vested in the courts by section 6 of the Constitution when you claimed that the Speaker had lost his office and seat as a federal legislator having contravened section 68 (1) (g) of the Constitution".
Buttressing his argument about the action taken against Hon. Aminu Tambuwal, Falana said the Actinng IGPs "ations and utterances in the circumstance have exposed the Police to unwarranted ridicule".
"Nigerians are not unaware of the fact that when the Ondo State legislators elected on the platform of the Labour Party (LP) decamped to the PDP last month your office did not declare their seats vacant. In particular, you did not withdraw the security details of Honourable Jumoke Akindele, the Speaker who led her colleagues to dump the LP for the PDP. In the same vein, Honourable Ahmadu Fintiri, the Speaker of the Adamawa State House of Assembly and his colleagues who decamped from the PDP to the APC and have since returned to PDP. You did not have cause to declare their seats vacant. Neither have you withdrawn the security details of the Honourable Fintiri."
He urged Abba to withdraw his pronouncement on the office and seat of Honourable Aminu Tambuwal and "advise the ruling party to seek redress in the Federal High Court on the constitutional implications of the defection".