A Political analyst has stressed the need for the Burkina Faso military that took over government after Blaise Compaore stepped down not to be in a hurry to hand over power to a civilian government. 
Mr Emmanuel  Onah, a lecturer with the University of Lagos, on a Channels Television's programme, Diplomatic Channel said handing over power to people that are capable of moving the nation forward should be paramount in the minds of the military.
The military takeover happened only shortly after Compaore stepped down and it set-off a new round of protests in the capital, Ouagadougou.
Compaore's move was so sudden there was not enough time to decide on a transition government.
But by Saturday, a new leader had been announced in the person of Lieutenant colonel Isaac Zida, as leader of a transitional government.
In his address, Lieutenant colonel Zida said the military was not interested in power, but were working for the greater interest of the nation.
The protests started after Mr Compaore revealed plan to extend his 27 year rule.
Many protesters are calling on the military government to leave the public scene immediately, as their role is to safeguard the country's national integrity.
Others insisted the biggest democracies in the world are governed by civilians, not by soldiers.
On Sunday, protesters made their way to the state television headquarters, they said it was to find out what was going on.
They were being addressed by a colonel, when gunshots rang out.
Protesters dispersed, running for cover and by Sunday evening, a relative calm had emerged.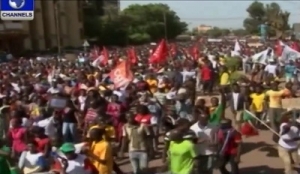 The military said it had to disperse protesters to restore order, and key opposition figures met with Colonel Zida for talks.
Present were leader of the Union for Progress and Change, Zephirin Diabre, former Foreign Minister Ablasse Ouedraogo, former Prime Minister Roch Marc Christian Kabore and leader of the Union for Rebirth, of the Sankarist Party, Benewende Sankara.
Under Burkina Faso's Constitution, the head of the National Assembly should take office if the president resigns, with a mandate to organise elections within 90 days.
However, the army has dissolved the legislature and suspended the constitution.
For Mr Onah, a politically elected government would enable the country move forward.
"I do not expect the military to overstay their welcome, but I do not also support the call for immediate vacation of office or for them to hand over to civilians.
"I have no doubt that if they overstay their welcome, they people will protest more. It is good that the military is there now and knowing that international climate is not good for them to remain, I am sure they will do their best to hand over the government to civilians," he said.