Tambuwal's Defection: Court Stops Alleged Plan By Some Reps To Reconvene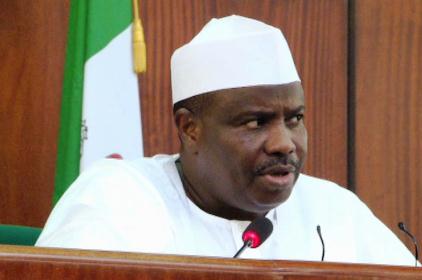 A Federal High Court in Abuja has stopped the House of Representatives from re-convening before November 7 when the suit filed by the speaker of the House, Aminu Tambuwal will be heard.
Tambuwal had approached the court via an exparte application, seeking an order of interim injunction stopping the House of Representatives from re-convening and removing him from office pending the determination of the suit he filed on Friday.
Joined in the suit are the Peoples Democratic Party, its national chairman, Adamu Mu'azu, House of Representatives, Deputy Speaker of the House of Representatives, Inspector General of Police, Independent National Electoral Commission and Attorney General of the Gederation, as first to seventh defendants.
Maintain Status Quo
Ruling on the motion exparte on Monday, the trial judge, Justice A.R. Mohammed, held that parties in the suit should maintain status quo until the substantive suit is heard.
He further ordered the defendants in the suit to appear on the next adjourned date – November 7 – to show cause why Tambuwal's prayers should not be granted.
In the affidavit attached to the motion exparte, Tambuwal stated that the defendants planned his removal as the Speaker of the House of Representatives despite his suit filed last Friday.
He averred that PDP and its chairman, Adamu Muazu, had threatened to ensure that his seat as Speaker and member of the House of Representatives was declared vacant in order to get INEC conduct a by-election.
He further stated that he had been receiving threats from his former party to remove him from office as speaker and members of the House of Representatives because of his defection to the All Progressive Congress.
Since Tambuwal defection the PDP had continued to asked him to vacate the seat of the speaker since he was elected under the party.
Defending Tambwual's defection, a member of the House of Representatives and the Minority Leader, Mr Femi Gbajabiamila, said that Mr Tambuwal was elected by majority of the House members cutting across different political parties and not just the PDP.