42 Boko Haram Suspects Regain Freedom In Borno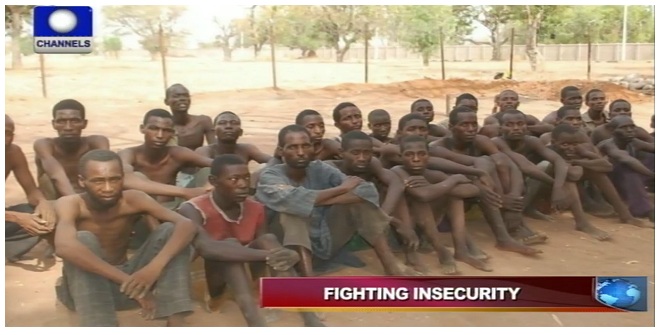 The 7 division of the Nigeria Army, Maiduguri, Borno state on Thursday freed 42 Boko Haram suspects and handed them to the state Governor, Kashim Shettima.
Three of the suspects released were Chad, Burkina Faso and Cameroon nationals and will be repatriated immediately by the Nigerian Immigration Services (NIS) to their various countries.
Handing over the freed suspects in Maiduguri, the Borno state capital, north-east Nigeria, the Deputy Director Public Army Relations Officer, Col. Sani Usman, said it had been established that the suspects were innocent.
The Deputy Director said "out of the 42 cleared suspects by the military this month; three are from the neighboring countries of Burkina Faso, Chad and Cameroon".
He called on Borno residents to continue to accord the needed support to security agencies in the search for lasting peace in the state and the country as a whole.
The state governor, Kashim Shettima, while receiving the released suspects encouraged them to be engaged in various occupations noting that "an idle mind is a devils workshop".
To the students in their midst, the governor said he will assist them "to go back and complete your studies while others will also be taken care of appropriately".
He then cautioned them not to take vengeance against the military that detained them during the investigation and urged them not to engage in any anti-social activities.
The governor further thanked the army for their commitment to the fight against insurgency and their show of transparency by freeing the suspects.
A student of the Department of Chemistry, University of Maiduguri, who spoke on behalf of the freed suspects, thanked Shettima for his gesture towards them.
Those freed were given the sum of N100, 000 to resettle themselves.
Th student said he plans to complete his education with the cash.