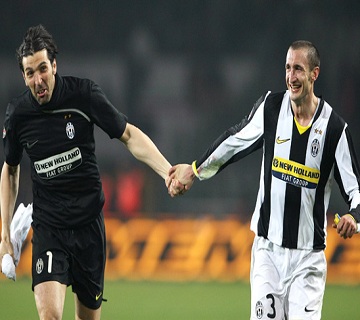 Gianluigi Buffon and Giorgio Chiellini have signed new contracts with Juventus keeping them at the Serie A club until 2017 and 2018 respectively.
Buffon's deal was due to expire by the summer of 2015, but his new contract has added 3 more years to his initially 13 years career for his club.
Chiellini, 30, had a contract until the end of this season, too, and has agreed a new deal that would keep him at the club for three additional years.
Club President, Andrea Agnelli, indicated that their leadership was key as their stay with Juventus has been helpful in bringing the club to the top.
"The fact that it will be my last contract was a factor, but I'm not worried about that: I feel energised. As both parties wished to continue, it was the natural choice to extend my contract for another two years. I'll need energy and courage to make my career last even longer," Buffon said.
Chiellini also showed his satisfaction by vowing to keep giving his all for the club
Buffon has won five Serie A titles with Juventus, plus two which were taken off the club as part of the 2006 match-fixing scandal.