Olivier Giroud Returns For Arsenal, Fit For Manchester United Clash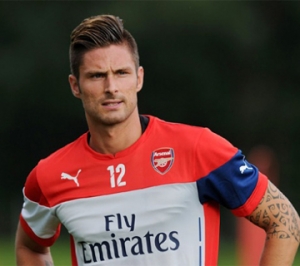 Arsenal striker, Olivier Giroud, has recovered from a broken leg, one month ahead of schedule.
Arsenal Manager, Arsene Wenger, has confirmed that the 28-year-old French international striker is fit to face Manchester United on Saturday.
Giroud suffered a broken foot during a 2-2 draw away at Everton on August 23 and has been out of action since then.
Wenger was expecting to welcome Giroud back in January at the earliest, but the Gunners' top scorer from last season has made a speedy recovery.
"Giroud and Arteta are both available. It's just a question of how ready they are. But they are available," he told reporters.
"He is three or four weeks ahead of schedule. Originally we planned to have him back for competition at the beginning of next year. So he's one month ahead."
Giroud's return eases the burden on English striker, Danny Welbeck and Chilean forward, Alexis Sanchez who has been
sensational since joining from Barcelona in the summer with 12 goals in 17 games.
Giroud started off the season in good form too, scoring twice in his opening four games before breaking his leg.
The Arsenal's boss, however, confirmed that defenders, Matheiu Debuchy and Laurent Koscielny are both out on the training ground but still a month or so away from being available for games.
"Koscielny and Debuchy are doing well, they are out on the field again.
"We have to see now. Usually field work is three weeks away from full group training. Then there is fitness.
"It looks straightforward for Debuchy. It's not inflammation, it's just repairing surgery. For Koscielny, it depends how well he responds to training.
"At the moment he looks good. Ozil is doing well but he will not be ready before the start of 2015," Wenger said.
The Gunners take on Louis van Gaal's Manchester United at the Emirates Stadium on Saturday as they aim to bounce back from a 2-1 defeat to Swansea City in their last game.