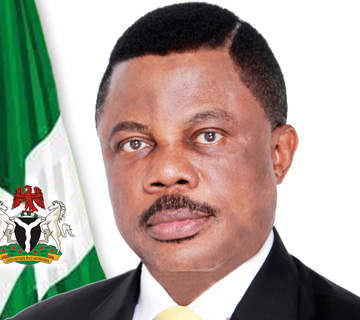 Anambra State Governor, Willie Obiano, has presented an Appropriation Bill of N164.4 billion for the 2015  fiscal year to the State House of Assembly.
The Bill tagged "Budget for Wealth Creation and Social Cohesion" targets economic and social development priorities of the state as outlined in the four pillars of the administrative blueprint that includes, Agriculture, Industrialization, Trade and Commerce and Oil and Gas.
The budget represents 3.17 over the 2014 Budget of N159.6 billion, with greater emphasis on road infrastructure and agriculture which will take 48 and 4 point one percent respectively.
The proposed budget is made up of N110.97 for Capital Expenditure and N53.5 billion for Recurrent Expenditure.
He projected the recurrent revenue earning for the fiscal year at N102.03 billion, made up of N48.4 billion expected from the statutory allocations and N54 billion from internally generated revenue.
Mr. Obiano noted that the 2015 projected statutory allocation was N8.6 billion less than the 2014 estimate, which he said reflected the decline in the state's share of Federal Revenue Allocation.
He assured that the substantial growth in the State's Internally Generated Revenue would make up for the dwindling revenue from FAAC.
While the Speaker, Right Honorable Chinwe Nwaebili, assured of accelerated consideration and passage with the collective interest of the state remaining paramount, other members of the House commended the integrity of the Bill.
The Bill passed first reading and was transferred to the House Committee on Finance and Appropriation, who enjoined all Ministries, Departments and Agencies to prepare their budget defense.