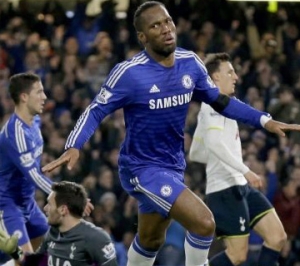 Chelsea Manager, Jose Mourinho, has hailed the bravery of his team to see-off the challenge by Tottenham at Stamford Bridge on Wednesday night to maintain their lead atop the English Premier League.
He said that his team played a good game against a spirited Spurs side who should have gone ahead when Harry Kane's header hit the bar. The attempt brought Chelsea into the game, subsequently taking the lead through Hazard.
The Portuguese also applauded the effort of his aging Ivorian striker, Didier Drogba (now 36) who set up Hazard for the opener and scored the second before Remy made it three.
When asked about what he felt on Drogba's performance he said, "Yes, it is remarkable. Didier is a team player, one of these with an old school mentality. Not selfish, not vain, a humble guy who plays for the team, fights for the team. Fantastic," Mourinho said.
"When he is on the bench and comes on for the last few minutes to help the team defend, he does that with the same enthusiasm as when he starts a game against Tottenham.
"We played against him when he was at Galatasaray last season so I could feel the kind of potential he still has and I was expecting exactly this, with not even a doubt about a player who is not playing every game. I knew he would adapt very well mentally to his role."
However, Spurs Boss felt hard done as his side failed to convert opportunities they had in the opening stages, with the loss now stretching their poor run at the bridge to 28 games since 1990.
"We started very well and made some chances, but they scored with their first chance and the game changed. That is the difference," Pochettino said.
"I'm very disappointed with the result because 3-0 is harsh but we can take some positives. We were very brave at the start.
"If we scored when Kane hit the bar then the game changes, but we were playing a very good team. Our history here is difficult but we came here with the idea to take three points. That was our intention in the beginning, but in football it's hard to manage the luck."