Police Say Security Forces Repelled Terror Attack On Bajoga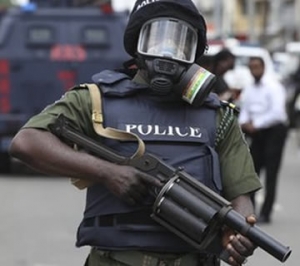 Police in Nigeria say security forces in Bajoga, headquarters of Funnakaye Local Government Area of Gombe State in the north-east, repelled an attack on the town by suspected members of the Boko Haram.
The spokesman of the Gombe State Police Command, Deputy Superintendent (DSP) Fwaje Atajiri, told reporters on Friday that normalcy had returned to area.
The suspected members of the terrorist group, attacked residents in the area in the early hours of Friday.
Bajoga is 60 KMs north of Gombe, the state capital and shares border to the east with Gulani and Gujba Local Government Areas of Yobe State, which have received a fair share of the attacks by the Boko Haram terrorist group members.
Mr Atajiri said that the attackers came to the town around 8:30am local time but the attack was repelled by security forces on ground.
"There was an attack on Bajoga around 8:30 this morning by gunmen. It was an unfortunate incident that had since been brought under control. It is not a new thing in the north-east geopolitical zone of this country. This has been a phenomenon that we have been grappling with and thank God our men successfully repelled the attack," he said.
Attack On Ashaka Cement Company
The police spokesman explained that the gunmen also made an attempt to launch attack on the nearby Ashaka Cement Company but their efforts were thwarted by the security forces and calls for collaboration with the wee-meaning members of the society in defeating the terrorists.
He advised the general public to be watchful of strangers among them and to immediately report suspicious movements around them.
Mr Atajiri did not disclose any casualty figure inflicted on the people of the community but residents said so many lives were lost while some government property were destroyed during the attack.
Places touched according to witnesses include; the divisional police office of the area, the Union Bank PLC, the First City Monument Bank (FCMB) of the town as well as the Bajoga Local Government secretariat.
Eyewitness account also said an ambulance and a Toyota Hilux Van were taken away by the hoodlums.
Today's violence is coming three days after persons believed to be members of the sect launched an attack on Damaturu, the Yobe State capital, in an attempt to seize control of the town.
Meanwhile, security has been beefed up within Gombe metropolis in an attempt to contain any attack by the terrorists.