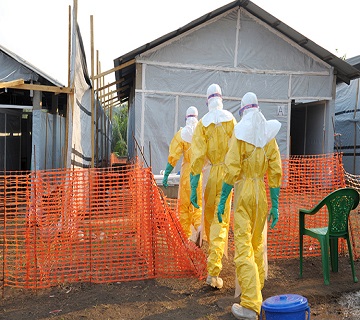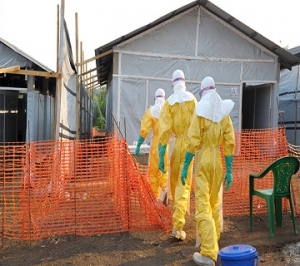 The World Bank said on Wednesday it would speed up delivery of hundreds of millions of dollars in assistance to fight Ebola in West Africa, as Sierra Leone appealed for help in plugging gaps in its response.
On a visit to Sierra Leone, where the epidemic is spreading fastest, World Bank, President Jim Yong Kim, said the lender would accelerate disbursement of $162 million in emergency support to ensure the money was delivered in two years instead of three.
To help kick-start Sierra Leone's economy, Kim said the bank would make available an additional $170 million over the next two years, mostly to strengthen infrastructure and agriculture.
"We're accelerating our support to Sierra Leone," Kim said in Freetown, during a tour of Ebola-affected countries in the region.
The worst known outbreak of the hemorrhagic fever on record has killed more than 6,070 people from 17,145 cases, the World Health Organization (WHO) said.
Despite Britain deploying hundreds of troops to its former colony, Sierra Leone is lagging behind Guinea and Liberia in its Ebola response, reporting 537 new cases in the week to November 30.
The WHO said uncertainty about data prevented firm conclusions about progress in eradicating the disease.
Sierra Leone President, Ernest Bai Koroma, said his country still had less than a third of the 1,500 beds it required and needed an additional four laboratories.
"While we do appreciate the increased presence, I must say that there is still the need for us to address the gaps that still exist in some areas of our intervention," he said.
In a subsequent stop-off in Guinea, Kim said that a $153 million aid package to that country would also be delivered in two years, instead of the planned three.
Medical charity, Medicins Sans Frontieres (MSF), said in a report this week that one of the shortcomings in the Ebola response is the failure to deploy trained medical personnel, resulting in high rates of infection among local staff.
In a move that could relieve staffing shortages, 250 medical volunteers from the African Union are prepared to be deployed on Thursday from Nigeria to the worst affected countries.
The World Bank on Tuesday revealed that the epidemic would cost more than $2 billion across the region, causing once-booming economies to slow down or shrink.