The Senior Special Assistant to the Nigerian President on Public Affairs, Dr Doyin Okupe, has described the successful convention held by Nigeria's two major political parties as a good development for the nation and its democracy.
Speaking on Channels Television, he said that President Jonathan's smooth sail to winning the People's Democratic Party's presidential ticket has been earned through his popularity.
He noted that facing some initial challenge from party members was not unusual and the party was able to manage it properly by allowing the challengers express their rights to contest.
Okupe explained that the President's outstanding performance eventually prevailed and led to the other aspirants withdrawing their ambition in the interest of the party and the country.
Dr Okupe also reacted to the emergence of former Head of State, General Muhammadu Buhari, as the presidential candidate of the All Progressives Congress (APC) in a successful presidential primary that has been adjudged to be highly transparent.
While he admitted that the APC primary election was indeed transparent and worth celebrating, he noted that "this is something that the PDP has been doing for the past 16 years. So for them its a new thing and we welcome them.
"At least now they know how to conduct primaries, they now don't impose candidates. We are very happy, we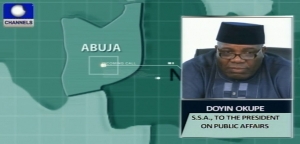 are now getting to the same page."
Okupe also admitted that the reaction of the other APC presidential aspirants to their loss in the election was commendable.
He said that the act of conceding defeat and very quickly congratulating the winner, was good for the country and its democracy. "We are beginning to understand the normal democratic culture," he said.
He, however, gave the credit for the development to the President.
"President Goodluck Jonathan has set the pace by saying that people's votes must count and we are beginning to see it over the months and years that people's votes are counting. So these are the examples that other parties are following."
He expressed confidence that the Peoples Democratic Party (PDP) remains the party to beat in the country, adding that "those who have left would come back".