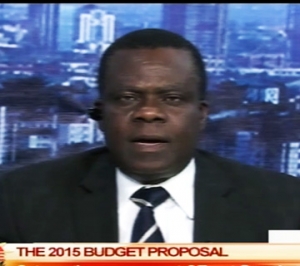 The Director-General of the Budget Office in Nigeria, Bright Okogu, says the 2015 budget has been designed with a focus on growth promoting areas of the economy.
Speaking during a conversation on Channels Television, Mr Okogu said that the authorities have recognized that there is a cash crunch in Nigeria just as it has been in other oil producing countries.
He mentioned infrastructure related expenditure, security and others among the focus of the budget to ensure stability of the economy, explaining that they would be using the available resources "even though they are reduced" to ensure "that the economy keep running".
The Minister of Finance, Dr Ngozi Okonjo-Iweala, had given an analysis of the 2015 budget to key players in the financial sector, during which she announced an oil benchmark price of 65 dollar per barrel for the 2015 budget.
The expectation of Nigerians had been that the 2015 budget would show that Nigeria's was not an oil economy and they have questioned why the benchmark was pegged at 65 dollars.
Okogu explained, "We have excessive volatility in the oil market. Everybody has recognised that, and there's no point in pretending. It could go up and it could be even lower than that in 2015.
"Some of the critical elements that are driving the main oil market at this time include the geopolitical developments in Europe, vis-a-vis Russia. It also includes the fight for market share between OPEC countries and American oil producers and other oil producers.
"We know that everybody is going to lose from a lower price of oil internationally. So, the best thing to do under such circumstances of uncertainty is to make sure that you approach this thing on a scenario basis.
"This means that you develop your budget structure using a variety of different price scenarios and then crafting a whole series of economic policies and programmes to manage the situation."
The Finance Minister had just presented the 2015 budget of 4.3 trillion naira to members of the National Assembly and the sum of 124billion naira has been proposed for distribution for the Federal Government's Subsidy Reinvestment Programme, SURE-P.
With the implementation rate of the 2014 budget put at 78% and considered a success, the sum of 2.6trillion Naira has been proposed as recurrent expenditure, while capital spending would be 644billion Naira in the 2015 budget.
Mr Okogu spoke about Nigeria's savings in its Excess Crude Account and why the country seemed not to be able to fall back on this in the face of challenges from the oil market.
He also responded to complaints by State Governments that delays in the payment of their federal allocations had been responsible for their financial challenges, as well as why there had been too much reliance on the excess crude over the years.